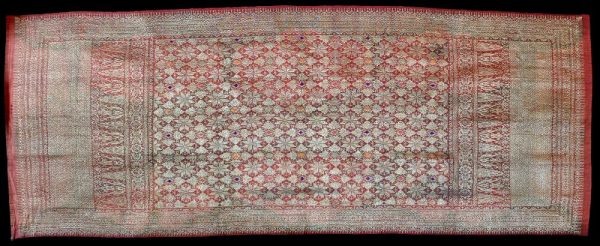 3818
Enquiry about object: 3818
Malay Gold & Coloured Silk Thread & Red Silk Songket
Malay people, Palembang, Indonesia or East Coast Malaysia late 19th-early 20th century
length: 203cm, width: 74cm
Sold
Provenance
Acquired in the UK, from the estate collection of Dr George Yuille Caldwell (1924-2016). Dr Caldwell, an English-born physician moved to Singapore in the 1950s, from where he built up a collection of mostly Indonesian textiles and other ethnographica.
– scroll down to see further images –
This beautiful and very fine songket comes from the Malay-related people of Palembang, in Sumatra, Indonesia. It comprises red silk woven (rather than embroidered) with gold-wrapped thread and coloured silk thread. The use of coloured (blue, pink, yellow and other coloured) silk threads to highlight the centres of flower motifs and so on, in addition to the gold-wrapped thread, is a less common variant on songkets made with gold-wrapped thread only. Traditionally, the red of the underlying silk fabric was achieved from the exudations (tahi malau) of an insect.
The production of suchsongket textiles was an extremely time consuming and expensive process. They were handwoven using the supplementary weft technique from expensive materials. Wealthier Malays might allow themselves one such new songket a year, often to be worn during the post-Ramadan festivities of Hari Raya, which included calling on family members and local dignitaries.
The quantity of the gold thread used has given this textile a heaviness. The brocade work is particularly fine. The central panel (badan) is filled with flower motifs including star-flower motifs (bunga sinar matahari beralih).
The panels at either end are decorated with the triangular bamboo shoot motif (pucuk rebung bunga kayohan).
Although relatively large, the (albeit light) length-ways folds still visible in this cloth suggest that it was used as a ceremonial shoulder cloth (kain selendag songket).
The textile is in excellent condition. There are no repairs, and no apparent losses to the woven thread. There is some light staining here and there, as can be expected with a textile that has been used in conjunction with ceremonial wear. It is among the best-preserved songket textiles that we have had.
References
Maxwell, R., Sari to Sarong: Five Hundred Years of Indians and Indonesian Textile Exchange, NGA, 2003.
Selvanayagam, G.I., Songket: Malaysia's Woven Treasure, Oxford University Press, 1991.