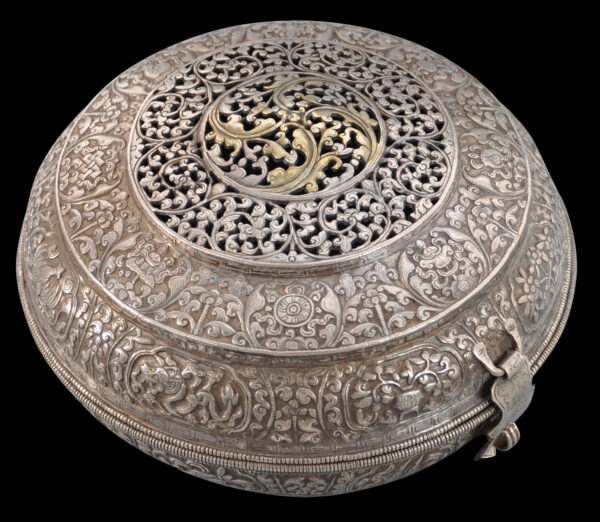 9076
Enquiry about object: 9076
Noble's Parcel-Gilt Chased, Pierced & Engraved Silver Box
Bhutan or Eastern Tibet 18th-19th century
height: 9.4cm, diameter: 18.7cm, weight: 640g
Provenance
private collection, UK.
– scroll down to see further images –
This very fine, large silver box has a hinged, tiered, domed cover. The cover has a raised central roundel pierced and gilded with scrolling leaf motifs. It is surrounded by a border that is also decorated by pierced scrolling leaf motifs.
The next border is chased with eight cartouches of the eight auspicious symbols of Tibetan Buddhism – the parasol, the pair of golden fish, the treasure or jewel vase, the lotus, the conch, the endless knot, the wheel of dharma and the victory banner.
The remainder of the cover is decorated with cartouches of chased with Himalayan dragons, garudas, snow lions,  and flowers, amid mire floral motifs.
The sides of the base or bowl are chased with eight Chinese treasures, again separated by floral motifs.
The base is chased with a double-dorje motif around a central yin-yang motif.
The hinge elements and the latch cover are both engraved with flower motifs.
What was the purpose of this box?
Such a box appears to relate to elaborate iron examples that were used to hold and protect valuable jade and porcelain bowls that belonged to noblemen while they were travelling. See the Victoria & Albert Museum for an example. However, the V&A does have an example (significantly cruder, and which joined the collection in 1910) but of this precise form which it describes, without elaboration, as a 'cake box' – see that example. The V&A has other examples. One is described simply as a box.  So is another example. But another is described as a cover for a bowl. Finally, another example which joined the collection in 1927 and which is attributed to Bhutan, 19th century or earlier, is described as a box for religious offerings.
An example of similar form but perhaps more clearly for the Bhutan market is illustrated in Schicklgruber & Pommaret (1997, p.213.) It is described as an 'elaborate betel leaf and areca nut box (bata)…that would have been used by the nobility and clergy'. Perhaps this last example is the most feasible, though more typical betel boxes in Bhutan are of rectangular shape and smaller.
Betel or paan was chewed in Bhutan as it was (and in some cases, still is) in India and Southeast Asia. The actual nut comes from a certain palm tree which was sliced, wrapped in a betel leaf along with powdered lime (usually obtained from crushed, burned seashells or coral) and chewed to give a mild narcotic effect.
Whether to present valuable jade or porcelain bowls, betel or perhaps expensive, festive cakes to members of the aristocracy, the prime function appears to be associated with presentation and spectacle. Clearly, the box has aristocratic pedigree.
The box is in excellent condition.
References
Beer, R., The Encyclopedia of Tibetan Symbols and Motifs, Serindia, 2004.
Myers, D., and S. Bean (eds),  From the Land of the Thunder Dragon: Textile Arts of Bhutan, Serindia, 1994.
Schicklgruber, C., & F. Pommaret, Bhutan: Mountain Fortress of the Gods, Serindia Publications, 1997.