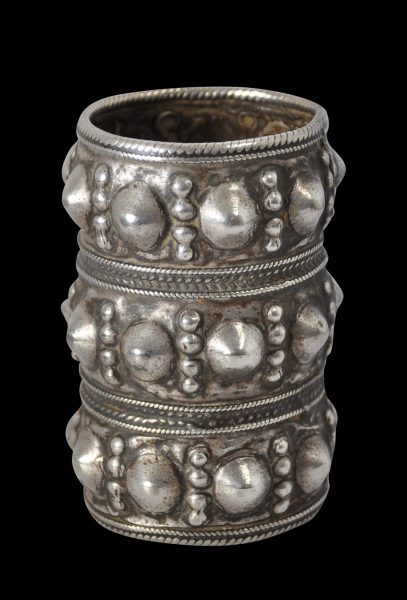 5039
Enquiry about object: 5039
Omani Silver Bracelet (Hangeri or Hajala)
Oman, possibly Nizwa late 19th-early 20th century
length: 10.4cm, internal diameter: 5.5cm, weight: 319g
– scroll down to see further images –
This fine, sculptural, thickly-walled silver cuff bracelet comprises three bands of points designed to reflect the prickly plants found in the desert.
Hoek (2004, p. 53) illustrates similar examples, as does Rajab (1998, p. 57).
The example here is in excellent condition with a lovely patina. Its contours have been softened by age and wear.
References
Hoek, C., et al, Ethnic Jewellery: From Africa, Asia and Pacific Islands, Pepin Press, 2004.
Rajab, J.S., Silver Jewellery of Oman, Tareq Rajab Museum, 1998.