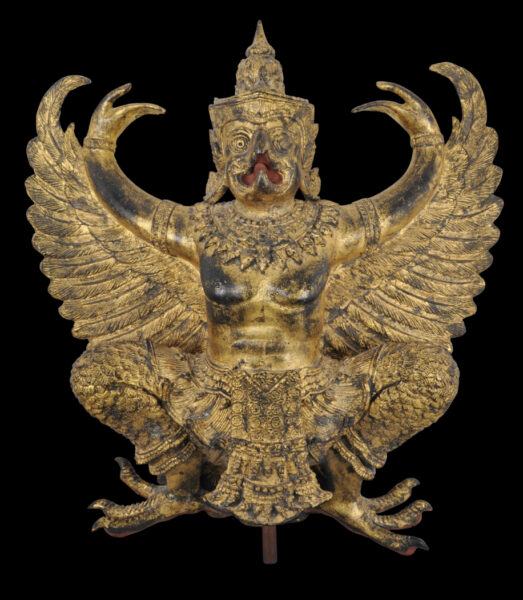 7234
Enquiry about object: 7234
Outstanding Royal Thai Gilded Bronze Garuda
Bangkok, Thailand mid-19th century
height: approximately 45cm, width: 43.5cm, height (with stand): 55.5cm
Provenance
private collection, UK.
– scroll down to see further images –
This extraordinary, highly three-dimensional image of the Garuda, a large hybrid half-man and half-bird creature, is the symbol of royalty in Thailand. It is one of the finest examples of Ratanakosin sculpture work of its type that we have seen. It is large, dynamic and extremely well modelled. It was also meant to be viewed from all angles, being well modelled front and back. The Garuda wears a crown, and has his wings or arms spread and all his feathers arrayed.
Most likely it was intended for a palace in Bangkok or to adorn a building or grounds of a building with royal connections. Garuda figures adorn the base of the Ubosot – the principal building in the temple compound of the Grand Palace in Bangkok, for example, which houses the Emerald Buddha, the most important Buddha image in Thai Buddhism.
The image here has been cast and chiselled in bronze and then gilded (gold plated). The protruding tongue, visible inside the beak, has been coloured red. The detailing is exceptional – the overall dynamism of the figure, the astonishing claws, even the deity's muscular stomach mark this out as an important sculpture.
The use of the Garuda in Thai art has its origins in India and relates to the region's pre-Buddhist Hindi past. The mythical Garuda is Vishnu's mount or vahana and was believed to be strong and fierce. And so in Siam (Thailand), the Garuda came to be adopted as a symbol of royalty. (Vishnu is known in Thailand as Narayana. The current royal dynasty is the Chakri Dynasty derived form the term chakra or discus which is one of the attributes of Vishnu.)
The Ratanakosin or Bangkok style of sculpture evolved after Siam's capital was moved to Bangkok in 1782. Buddha images became more elaborate and were cast dressed in royal attire and elaborately bejewelled. Later Bangkok period sculpture saw images becoming more realistic in their rending, largely the result of the influence of King Rama V (r. 1851-1868) whose interest in science and rationalism lead to more naturalistic renderings.
The figure has been fitted with a (non-obtrusive) rod from beneath so that it can be attached to a high-quality, custom-made stand. The figure is in excellent condition with the usual wear to the gilding providing evidence of age and use.
References
National Museum Volunteers Bangkok, Treasures from the National Museum Bangkok: Seleted by the National Museum Volunteers Group, NMV Bangkok, 1987.
Naengnoi Suksri, The Grand Palace of Bangkok, Thames & Hudson, 1999.
Siamese Art of the 14th-19th Centuries in the Hermitage, Slavia Art Books, 1997.