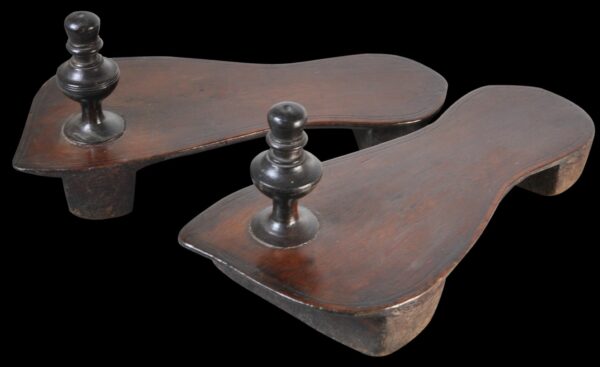 8762
Enquiry about object: 8762
Pair of Carved Wooden Paduka Shoes
India or the Malay World probably 19th century
length: 25cm, width: 11cm, combined weight: 468g
– scroll down to see further images –
This fine pair of paduka-style wooden clogs is in wonderful condition and has a superb, rich patina. Each stands on two feet. The base of each is carved from a single piece of wood. The toe knobs are are of turned wood and have been separately applied. They have been secured by means of wooden pins passing through them from the underside of each clog.
Toe-knob sandals usually are associated in Indian culture with the sadhu, the Hindu holy man or ascetic who wanders from village to village. Such sandals represent footwear in its most basic form, stripped down and thus in accordance with the strictures of the life of an ascetic.
This pair however would have been used in a more well-to-do household, worn whilst bathing.
The clogs have either come from India, or from the Malay world, including the Malays on the Malay Peninsula, coastal Sumatra, Sri Lanka or even the Cape Malays of southern Africa. All these groups wore clogs such as these while bathing, either in their own bathing areas (known as the mandi to the Malays) or in a public bathhouse.
A related pair in the British Museum can be seen here. According to the Museum's records, the pair entered the collection between 1860 and 1869 and were believed to be Malay or possibly Indian.
Malay platform clogs are not unknown. The practice of wearing them would have been copied from elsewhere in the Islamic world such as northern India and the Ottoman empire, and given all the interaction and travel within the Islamic world on account of travels associated with the haj, habits and fashions spread readily across the world along haj and trade routes. Generally they were used during bathing.
Jasper & Pirngadie (1930, p. 135) illustrate a single clog cut from brass and from Java which has similar toe-outlines and so on, further suggesting the Southeast Asian origins of both the pair here and those in the British Museum.
The pair here have a splendid patina and are particularly decorative.
References
Jain-Neubauer, J., Feet & Footwear in Indian Culture, Bata Shoe Museum/Mapin, 2000.
Jasper, J.E. & Pirngadie, De Inlandsche Kunstnijverheid in Nederlandsch Indie V: de Bewerking van Niet-Edele Metalen, 1930 (reprinted 2009 by Sidestone Press, Leiden).