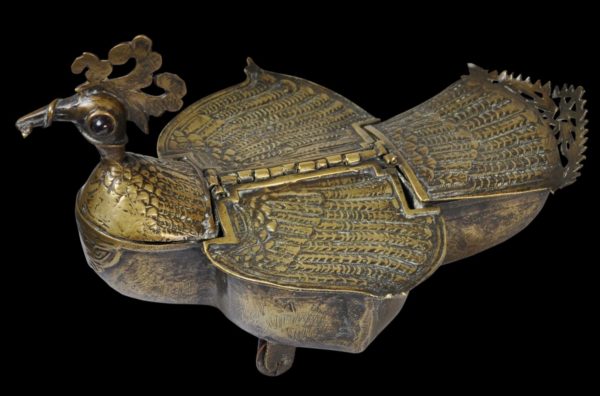 5962
Enquiry about object: 5962
Rare Dayak Brass Hornbill Bird-Shaped Betel Box with Inlaid Eyes
Dayak People, Sarawak, Borneo, Malaysia 19th century
approx. 20cm in length
Sold
Provenance
formerly in the collection of Henry Brownrigg, author of 'Betel Cutters. from the Samuel Eilenberg Collection' (Thames & Hudson, 1992).
– scroll down to see further images –
This relatively rare form of brass container is whimsically in the form of a hornbill bird. It is of cast brass, and shows the hornbill perched and with a thin, long worm in and wound around its beak.
There are three 'feet' or wheels on the base made using three Rajah Brooke copper one cent coins dated 1863, 1870 and 1870 respectively. These coins were issued by the administration of the Brooke family who ruled Sarawak as the 'White Rajahs' in the 19th and early 20th centuries.
Both wings and the tail feathers are hinged and lift up to reveal containers for the various elements of the betel quid. The tail feather section is divided into three areas and has traces of powdered lime, an essential part of the betel quid.
The 'eyes' are inset with red glass spheres.
The head crest and tail feathers are pierced.
Betel is a mild social narcotic that was popular in Southeast Asia and South Asia (where it was called paan).  Slices of areca nut were added to powdered lime (often obtained from coral or crushed seashells) and then wrapped in a betel creeper leaf. The little package was then chewed for its narcotic effect and eventually spat out.
We are aware of one other similar example of such a betel box in the Sarawak Museum in Kuching, Sarawak and illustrated in Chin (1980, p. 47).
The container is a fine, sculptural item. There are no losses or repairs. There is a small casting hole to the lower section of one side. Such casting imperfections are common in Borneo metalwork. Overall, the item has superb wear, a golden patina and very obvious age.
References
Chin, L., Cultural Heritage of Sarawak, Sarawak Museum, 1980.