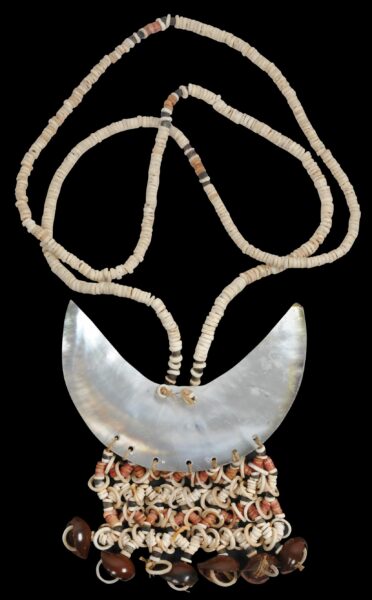 8541
Enquiry about object: 8541
Solomon Islands Shell Necklace with Tafi or Dafe Pendant & Shell Currency Strands
Solomon Islands early 20th century
length (of shell): 9.8cm, length (of shell currency strand): approximately 85cm, weight: 77g
Sold
Provenance
from the estate collection of a former London museum curator
– scroll down to see further images –
This superb and wearable necklace from the Solomon Islands comprises a long chain of threaded shell currency and with good-sized shell pendant from which shell disks and halved seed pods are suspended.
This crescent-shaped chest pendant with pointed tips known as a tafi or dafe has been cut from pearl shell (probably the gold-lipped pear shell – Pinctada maxima).
It has been polished on one side only (as is typical of such pendants from the Solomon Islands) and drilled with two suspension holes, and seven holes along its lower edge from which a decorative fringe shell disks is suspended each of who has a seed pod terminal.
Such pendants primarily were worn by men.
The fashion for wearing such pendants probably was introduced to the Solomon Islands from elsewhere in Polynesia via regional trade routes.
The necklace includes a long strand of shell currency threaded onto coconut fibre string. The shell currency of the Solomon Islands has been used in the Islands' region for hundreds of years. It was used as a part of the bride-price or dowry and also for compensation payments. According to Grulke (2022, p. 203), production of shell money was mainly in the hands of the sea people of Langalanga on the west coast of Malaita. Their name for the currency was bata. Typically, shell currency was strung on cord. It could then be worn for safe keeping in the way that other cultures might wear necklaces of gold.
The example here is in a fine, wearable condition.
References
Grulke, W., Adorned by Nature: Adornment, Exchange & Myth in the South Seas, At One Communications, 2022.
Howarth, C., Varilaku: Pacific Arts from the Solomon Islands, National Gallery of Australia, 2011.
Hurst, N., Power and Prestige: The Arts of Island Melanesia and the Polynesian Outliers, Hurst Gallery, 1996.
Neich, R., & F. Pereira, Pacific Jewelry and Adornment, University of Hawai'i Press, 2004.
Waite, D. & K. Conru, Solomon Islands Art: The Conru Collection, 5 Continents, 2008.