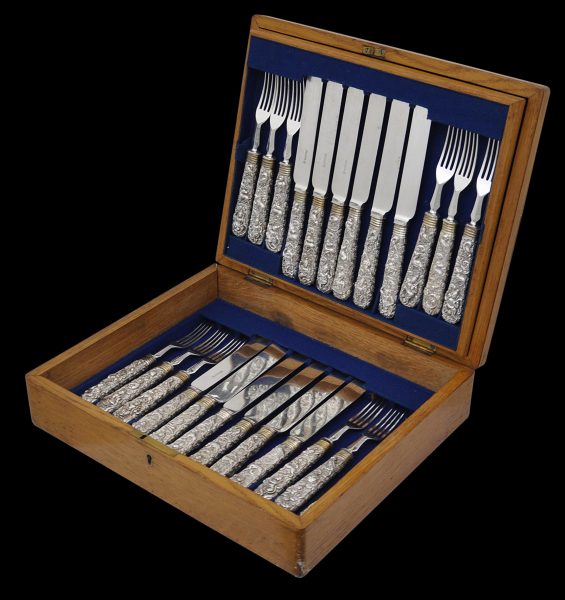 2931
Enquiry about object: 2931
Colonial Indian Trichinopoly Silver 24-Piece Cutlery Set
Trichinopoly, South India & London circa 1870
length of knife: 22cm, length of fork: 18cm, typical weight of one fork: 63g, typical weight of one knife: 73g, length of box: 31.5cm, width of box: 26.4cm, thickness of box: 7.7cm
Provenance
private UK collection
– scroll down to see further images –
Colonial Indian cutlery sets are rare. The handles of this set, comprising twelve pairs of knives and forks, were produced in Trichinopoly, South India. They are of hand-chased solid silver sheet. Each is chased with different animals and stylised Hindu gods among dense scrolling foliage.
The knife blades and fork tines are of a stronger base metal covered in thin silver sheet and have marks for John Neal, a jeweller and silver retailer that traded from premises on London's Edgeware Road between 1852 and around 1880.
The collars of each handle where they join the tines or blades are rubbed and have been gilded.
It is likely that this retailer ordered in the handles and then added in its own stronger components to ensure a serviceable cutlery set.
The box is the original oak box for the set. The interior is lined with blue felt, and the top of the hinged cover has a blank brass armorial cartouche. The original brass lock is present but the key is missing.
The knives and forks sit inside the box in two separate, fitted trays.
Overall, the set is in very fine condition. The set has been used but there is compararatively little wear to each of the knives or forks.
References
Dehejia, V., Delight in Design: Indian Silver for the Raj, Mapin, 2008.