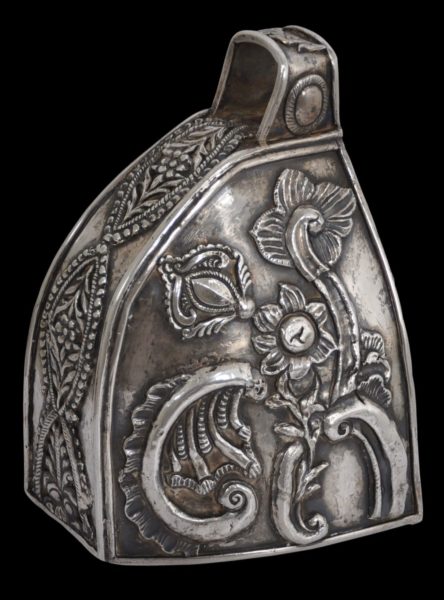 6199
Enquiry about object: 6199
Spanish Colonial Silver Stirrup
Spanish Colonial Alto Peru 18th century
height: 18cm, width: 13.3cm, depth: 13.4cm, weight: 732g
Provenance
London art market, previously acquired in Ghent, Belgium
– scroll down to see further images –
This is quite a remarkable item. It is a stirrup (there is only one) and it is clearly Spanish colonial and from South America judging by the decoration used. But we are aware of no equivalent examples, published or otherwise.
It is of half-foot length, but high. There is a loop at the top to allow suspension from the saddle. It is decorated on all sides and even on the suspension loop not with repousse work but with silver sheet that has been separately repoussed and then this has been applied over the flat silver sides of the stirrup itself.
The decoration is typically rococo with large floral and shell-like scrolls.
The most likely origin of this stirrup is 18th century Alto Peru, which is the early Spanish colonial name given to upper Peru and Bolivia today.
The stirrup is in spendid condition with a superb patina and obvious, significant age. It is a sculptural work of art in its own right, and an excellent example of early Spanish colonial silver.
References
de Lavalle, J.A. & W. Lang, Arte y Tesoros del Peru: Plateria Virreynal, Banco de Credito del Peru en la Cultura, 1974.