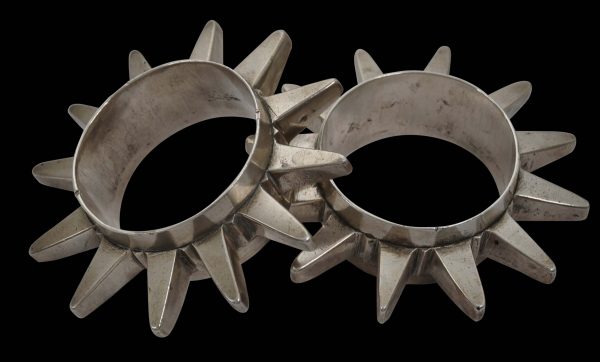 5252
Enquiry about object: 5252
Superb Pair of Silver Spiked Cuff Bracelets (Azbi n'Iquorrain)
Ait Atta Berber People, South-Eastern Morocco early 20th century
external diameter: 13cm, internal diameter: 6.7cm, thickness: 3.7cm, combined weight: 1,116g
– scroll down to see further images –
This spectacular, heavy pair of cast and chiselled solid silver cuff bracelets is from South-East Morocco. The form is iconic when it comes to Moroccan jewellery.
Both have been cast with 12 points and in between these are much shorter points.
Such bracelets were intended for women. Often it is reported that such bracelets were worn as potential defensive weapons but this might be apocryphal.
Related pairs are illustrated in Hoek (2004, p. 32), Amel (1998, p 242), Boele (2004, p. 150), and Mourad et al (1998, p. 175).
The examples here are in fine condition with minor casting faults and so on, and age-related wear. They are wearable and stable, and are able to fit over most modern hands and wrists.
References
Amel, P. et al, Splendeurs du Maroc, Musee Royal de l'Afrique Central, Belgium, 1998.
Boele, V. (ed.), Morocco: 5000 Years of Culture, Kit Publishers/Lund Humphries, 2005.
Hoek, C., et al, Ethnic Jewellery: From Africa, Asia and Pacific Islands, Pepin Press, 2004.
Mourad, K., F. Ramirez & C. Rolot, Arts et Traditions du Maroc, ACR Edition, 1998.