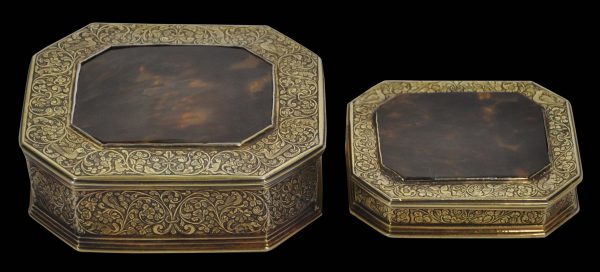 5217
Enquiry about object: 5217
Two Mughal Engraved Gilded Silver Boxes inset with Tortoiseshell Panels
North India circa 1740
length of largest box: 9.5cm, width: 8.8cm, height: 3.3cm, weight: 183g; length of smaller box: 7.5cm, width: 6.7cm, height: 1.8cm, weight: 98g
Sold
Provenance
Scottish art market
– scroll down to see further images –
This pair of six-sided boxes belongs to a very rare group of European-form silver items made in India for the European market in the 18th century. They are of the highest quality.
Each is of silver that has been finely engraved on all sides and then gilded (gold plated). The hinged lids are inset with toffee tortoiseshell. The hinges are very fine – another mark of the high quality of the workmanship employed in these boxes.
The engraving features Mughal-Persian inspired floral scrolling in which birds and squirrels frolic.
Related boxes with almost identical engraved motifs are illustrated on the back cover of Wilkinson (2008).
The boxes here are in fine condition for their age. The gilding has developed a lovely, rich yellow hue over time. There are minor losses to the box settings of the tortoiseshell, but this is trivial. Overall, they are fine, beautiful and rare.
References
Wilkinson, W., 'Reflecting Power: Three Schools of Indian Silver', 2008.