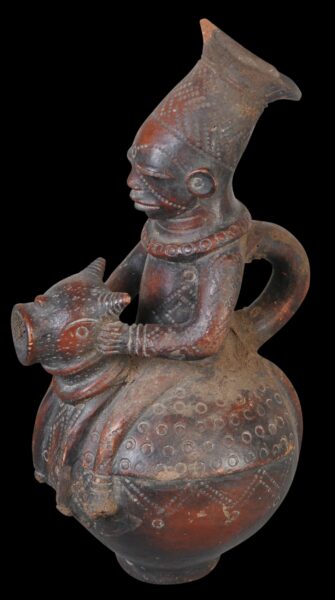 7333
Enquiry about object: 7333
Well-Modelled Mangbetu Terracotta Vessel
Mangbetu People, Congo 19th century-early 20th century
height: 28.5cm, width: approximately 12.5cm, weight: 1,096g
– scroll down to see further images –
This fine terracotta vessel is a fine example of a genre of terracotta that built on Mangbetu court art whereby an otherwise utilitarian object was given decorative appeal with the addition of a human figure riding a horse.
The vessel has a spherical base, a rounded handle, a spout that is the horse's mouth, and a neck that comprises the rider's body.
The rider has an elongated head. This is not so much a headdress but represents the Mangbetu practice of tightly binding each infant's heads with raffia so that the skull was compressed and became elongated. The elongation would then be accentuated in later life with the addition if a cup-like coiffure finial.
A similar vessel is illustrated in Bacquart (1998, p.  142) and Morin & Wastiau (2008, p. 313).  See a related, though probably later, example in the Metropolitan Museum of Art.
The Mangbetu left Sudan in the 18th century and relocated their kingdom in the north-east part of the Democratic Republic of Congo. They were ruled by a king and his sons acted as regional governors. They are a small group and number around 40,000 today.
Historically, the Mangbetu have had close connections with European traders and so early Mangbetu artworks do tend to be found in Europe – items that we presented during colonial times.
The example here has a fine patina and obvious age. There is loss to the front edge of the rider's coiffure, and very likely an old repair rejoining the rider to the base.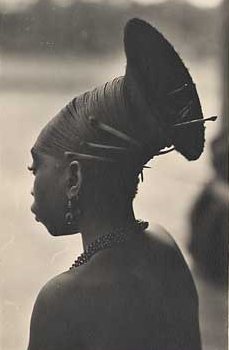 A Mangbetu woman with the distinctive head-shape and coiffure, circa 1930.
References
Bacquart, J. B., The Tribal Arts of Africa, Thames & Hudson, 1998.
Morin, F., & B. Wastiau (eds.), African Terra Cottas: A Millenary Heritage in the Barbier-Mueller Museum Collection, Somogy Editions D'Art, 2008.