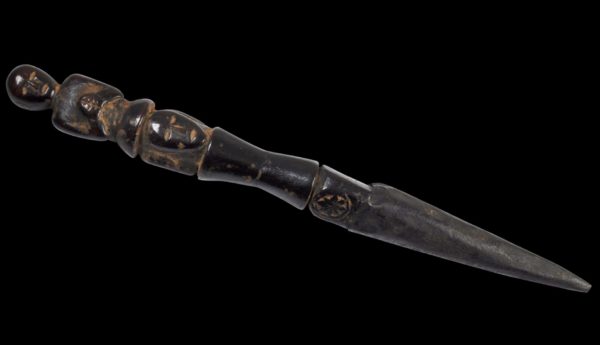 6273
Enquiry about object: 6273
Wooden & Iron Nepalese Ritual Dagger or Phurbu Carved with a Ban Jhankri Figure
Nepal circa 18th century
length: 29.5cm, weight: 90g
– scroll down to see further images –
This ritual dagger or phurbu is of carved wood and with a tip that is carved in hammered sheet iron. A shaman-type figure or ban jhankri sits with clasped hands atop of the handle section, over a dais carved with three heads. These sit atop a plain, hour-glass shaped section and this sits atop a section with three faces , one carved with a crescent moon, one with a sun or solar motif and the last with a star motif.
It has an outstanding dark, glossy patina from ritual use and handling and very obvious age.
The iron cladding around the spiky end suggests that this phurbu was intended to for use as a ritual marker by a Buddhist Nepalese monk or shaman for the demarcation of a protective boundary around a sacred site.
Similar examples are illustrated in Rond (2019).
The example here is in excellent condition.
References
Rond, F., Himalayan Sacred Objects, Galerie Indian Heritage, 2019.