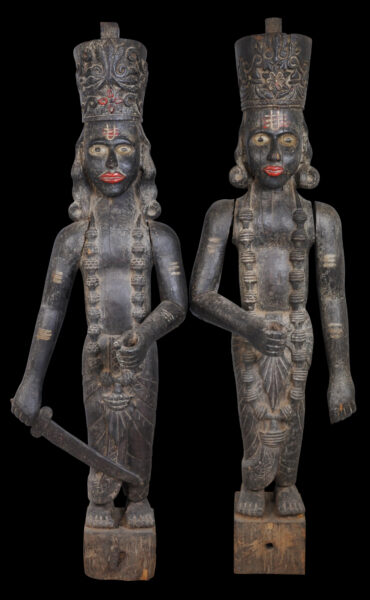 6505
Enquiry about object: 6505
Rare Pair of Wooden Supports Carved as Sri Lankan or South Indian Chetties or Ascetics
South India or Sri Lanka circa 18th century
height of each: 98.7cm
– scroll down to see further images –
These two attendant figures possibly were part of an entrance to a shrine. Each stands erect but with arms in dynamic poses. Each is of darkened wood but with ample grey-white tilaka marks to their foreheads, upper and forearms to suggest their ascetic qualities. (Traditionally, these marks are made with ash from sacred fires.) Both wear long Hindu rosaries down their chests. One is carved to suggest a long rosary of striated brass beads, the other is carved to clearly suggest rudraksha beads.
The figures have been carved with luxuriant, long hairstyles which suggest colonial European influence – indeed the powdered wigs fashionable among European men in the 18th century. It is the hairstyling on these images which suggests their dating. The hair is finely carved into scrolling neat strands.
Both also have unusual, tall headdresses which are carved with floral motifs; large, deep-set, almond-shaped eyes that are wide if not startled; and full lips painted bright red.
One holds a short sword. The other was intended to hold something similar.
The rudraksha seed is the stone of the fruit of the utrasam tree and is believed to be sacred to Shiva. The name 'rudraksha' means 'eye of Rudra', an ancient name for Shiva. The seeds are made into beads and worn as rosaries, necklaces and bracelets by Shaivite devotees and priests. Many devotees never remove such items, considering them among their most sacred possessions.
The tilaka marks on the foreheads are unusual but the three horizontal lines suggest that the two are indeed meant to represent Shaivite adherents, which accords with the depiction of rudraksha seeds. The markings about the bodies suggest that the bodies were intended to serve as 'temples'.
The tilaka marks and the styling suggest that the figures were intended to represent either members of the Chetty (also known as Chettie, Chettiar and Chettiyar) communities of South India and Sri Lanka, or South Indian rishi,  yogi or ascetic. The Chetties were Tamils from the mercantile community who were involved in commerce and trade and especially in banking and money lending. Family members settled in Southeast Asia too – in Rangoon, Penang and Singapore – for example, allowing them to extend their banking services internationally.
In Sri Lanka, the Chetties formed a distinct group and also became known as Colombo Chetties. They had migrated to Sri Lanka from South India under Portuguese rule. Their culture developed separately from the Chetties in South India.
The two figures here are in a fine, stable condition. There are expected minor chips and so on but no significant losses and no repairs. There are shrinkage-related gaps where the arms join the bodies but the joins remain robust. Overall, these are striking, sculptural and very unusual.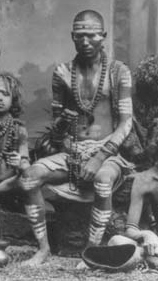 Shaivite Hindu ascetic, 1890s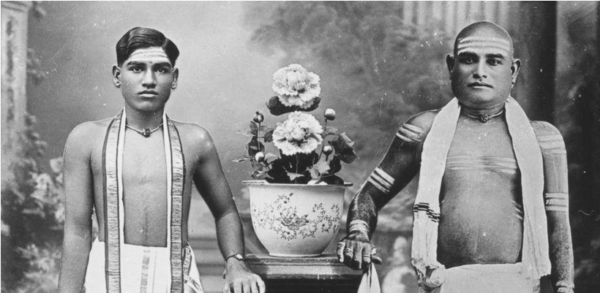 Singapore Chettiars, circa 1920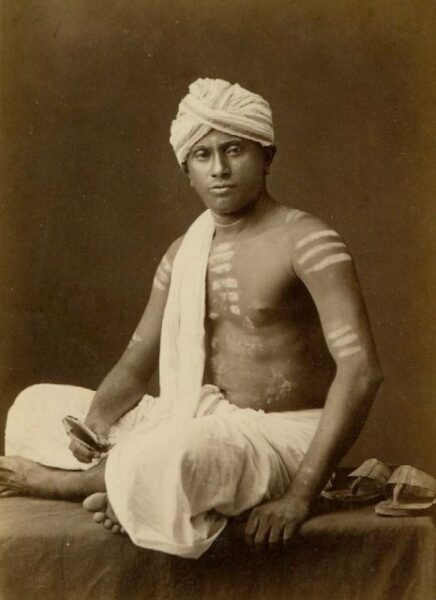 A Sri Lankan Chettiar, circa 1870
References
Diamond, D. et al, Yoga: The Art of Transformation, Freer/Sackler, 2013.
Guy, J., Indian Temple Sculpture, V&A Publications, 2007.
Rai, R., & A. Mani, Singapore Indian Heritage, Indian Heritage Centre, 2017.
De Silva, P. S., 19th Century Photographs of Ceylon: The Palinda Stephen de Silva Collection, 2006.