– scroll down to see further images –
This pair of paduka-like shoes sandals has been fashioned from sheet and cast silver over a carved wooden base.
Such shoes were worn by aristocratic women in Zanzibar on Eastern Africa's Swahili Coast (An early photographs below shows Princess Salme of Zanzibar posing with such a pair of shoes.)
They are modelled on the high shoes often worn by well-to-do women while bathing, the height of the shoes ensuring that the wearer would stay above the wet floor.
They stand on high, flared platforms which have been scalloped. The exteriors have been clad in hammered sheet silver which has been pinned to the wooden bases with silver pins.
The upper soles also are clad in silver and this has been finely chased with leafy scrolling against a finely tooled background. This work is particularly fine and probably the best that we have seen on a pair of shoes of this type.
The sides of the soles have been decorated with a double row of small, suspended bells. All appear to be present.
The toe-knobs are clad in silver and are similarly topped with pendant bells.
A related pair attributed to the early 19th century, which were acquired in Zanzibar, is illustrated in Jain-Neubauer (2000, p. 88).
Zanzibar was at first ruled as an effective colony of the sultans of Oman but as the island became wealthier because of the trade in ivory, gold, spices, timber and slaves, the Omani court relocated to this new commercial centre of dominions. Over time, Oman grew relatively impoverished and an administrative after-thought whilst Zanzibar continued to prosper. In a sense, Oman almost was ruled as a colony of Zanzibar. This shift in commercial and political power was reflected in the jewellery and other arts. The jewellery of the Arab population of Zanzibar was essentially Omani but with some local twists. It is likely that silver and goldsmiths operated in Zanzibar – it would have been surprising if this was not the case given the growing wealth of its commercial trading elite and the fact that the Oman court had relocated there. These smiths seemed to have made jewellery in the Omani tradition but with some local augmentation, or modified jewellery that had been produced in Oman, to suit local tastes. The island's ethnic make-up was diverse and so other influences are likely to have made their impact on local material culture including jewellery design. Quite apart from expatriate Omanis and other Arabs who resided in Zanzibar, there were the local Swahili Africans, but also a rich mix of other trading groups such as Parsis, Indian Khojas and Bhoras, Hindu Indians, Christian Goans and Ceylonese.
The pair here have ample signs of age, and are without losses or repairs.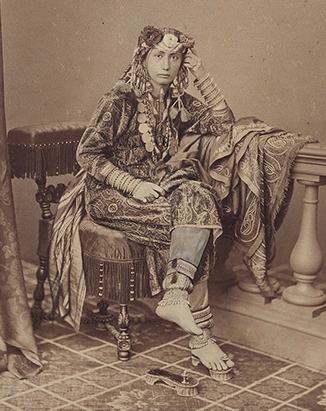 Above: Princess Salme of Zanzibar
References
Dale, G., The Peoples of Zanzibar: Their Customs and Religious Beliefs, The Universities' Mission to Central Africa, 1920.
Forster, A., Disappearing Treasures of Oman, Archway Books, 1998.
Ginzberg, M., African Forms, Skira, 2000.
Jain-Neubauer, J., Feet & Footwear in Indian Culture, Bata Shoe Museum/Mapin, 2000.
Meier, P. & A. Pupura (eds.), World on the Horizon: Swahili Arts Across the Indian Ocean, Krannert Art Museum/Kinkead Pavilion, 2017.
Norris, M., & P. Shelton, Oman Adorned: A Portrait in Silver, Apex Publishing, 1997.
Utracht, O., Traditional Jewelry of India, Thames & Hudson, 1997.
Rajab, J.S., Silver Jewellery of Oman, Tareq Rajab Museum, 1998.