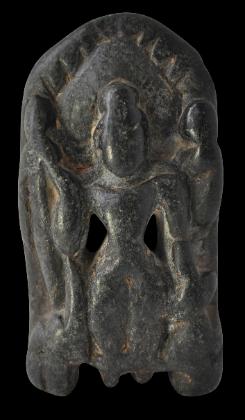 Inventory no.: 1993
Basalt Virabhadra
SOLD
Carved Black Basalt Stele of Virabhadra
North India
circa 9th-10th century
height: 10cm, width: 5.3cm, thickness: 2.2cm
This well-worn black basalt stele most likely shows Virabhadra, an emanation of Shiva. The deity is shown standing, with multiple arms and with the lower right arm appearing to hold a shield, a helpful identifier for Virabhadra.
The image is worn smooth from environmental weathering and devotional handling and has a rich, glossy patina.
Virabhadra, an incarnation of Shiva, was created after Shiva's wife, Sati, was not invited to a great sacrifice given by her father Daksha. Sati, being greatly humiliated, went to the banquet and threw herself on the sacrificial fire. When Shiva heard of his wife's death, he tore a hair from his head and threw it to the ground. Virabhadra, a great hero-warrior, arose from this hair. He cut off Daksha's head in his rage and hurled it into the sacrificial fire. After the other gods calmed Shiva down, Daksha's head was replaced by that of a goat or in this case, a ram. Daksha later became a devotee of Shiva.
References
Harle, J.C. & A. Topsfield, Indian Art in the Ashmolean Museum, Ashmolean Museum, 1987.
Provenance
UK private collection/UK art market
Inventory no.: 1993
Ask about this item