The antique arts of Burma (now known as Myanmar) are among Asia's most under-appreciated art works. Lacquer makers, wood carvers and other artisans produced extraordinary items, and the skill of the country's silversmiths quite possibly surpassed those operating in say, England.
All items are available for sale right now.
Do sign-up for our monthly catalogues so you can see new additions to our stock as they arrive.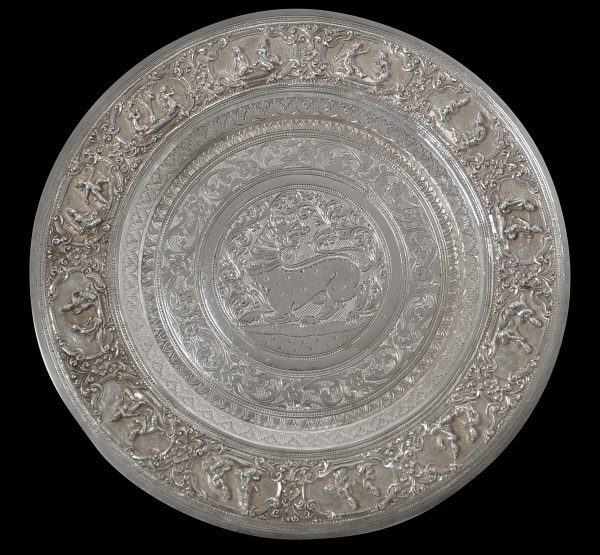 4776
Enquiry about object: 4776
Burma early 20th century
diameter: 25.5cm, height: 4.2cm, weight: 472g
Provenance
from the estate of Arthur Morris, and thence by descent. Morris (1880-1944) trained as an engineer and spent nineteen years working in Burma for the colonial administration in the Public Works Department. During this time, he developed a strong interest in Burmese arts and crafts, particularly in Burmese lacquer. He was appointed Provincial Art Officer in 1914 for which he organised an annual arts and crafts exhibition of 'native' craftsmen in Rangoon. He was also a member of the Board of Studies in Fine Arts at Rangoon University, and was chairman of the sub-committee which was formed in Rangoon to collect material for the Arts and Crafts Section of the Burma Pavilion at the British Empire Exhibition that was held in Wembley, London, in 1924.