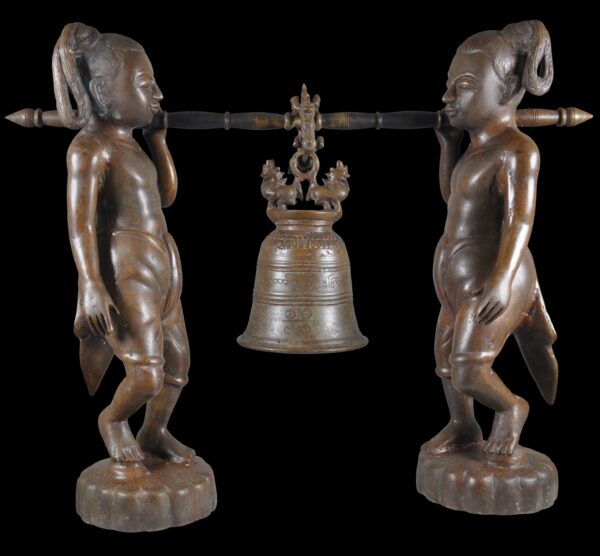 6771
Enquiry about object: 6771
Burmese Bell Carried by Two Buddhist Devotees
Burma early-to mid 20th century
height: 41cm, length (of the rod): 52.5cm
This decorative sculptural group, all cast in bronze, shows two devotees in Burmese dress carrying a rod on their shoulders from which is suspended a traditional temple bell. The bell is engraved with a line of Burmese script running right around it. This might be the donor's name.
The two devotees are the mirror image of one another so can be considered a true pair. Each has his longyi tucked up over itself, usually to aid with walking and sometimes to show off leg tattoos, and long hair tied loosely as a top-knot. Each stands on a raised platform with scalloped sides. These give the set stability when displayed. The two can be changed to face one another or to face the same direction as if marching in procession.
The bell depicted is of a type offered to a monastery or temple to earn Buddhistic merit (kutho), and was considered second only to the offering of a Buddha image on the scale of meritorious (Bennett, 2011, p. 200).
Such bells were cast using the lost wax (cire perdue) method. Casting of such bells was auspicious with specific rituals being performed by the caster and sponsors to ensure the appropriate blessings. Some bells, according to Fraser-Lu (1994, p. 132), weigh up to 90 tons.  Typically, such bells were cast from an alloy of mostly copper with some tin and occasionally a small quantity of lead.
The bell here, as with all such Burmese bells, does not have a clapper. It was designed to be struck from the outside by a wooden striker. When such bells were struck in a temple (itself a meritorious act), onlookers traditionally would responds with cries of 'thadu, thadu!' ('well done, well done!)
It is of classic bell shape with several rows of engraved concentric circles and two upper rows of lappet-like lotus petals. The upper section of the bell has been cast with a pair of chin-thei (Burmese lions) which guard the holding ring. The hanging bracket is decorated with dragons.
The casting of the group seems in the tradition of the images and sculptures that were cast in Pegu, for both religious and purely decorative purposes.
The group is in excellent, stable condition, and probably has been in the UK since colonial times.
Below: An actual temple bell installed in Rangoon's Shwedagon Pagoda, late 19th century.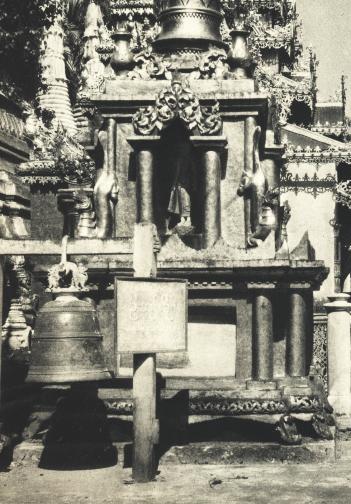 References
Bennett J., Beneath the Winds: Masterpieces of Southeast Asian Art in the Art Gallery of South Australia, Art Gallery of South Australia, 2011.
Fraser-Lu, S., Burmese Crafts: Past and Present, Oxford University Press, 1994.
Fraser-Lu, S., & D.M. Stadtner, Buddhist Art of Myanmar, Asia Society Museum, 2015.
McGill, F. (ed.), Emerald Cities: Arts of Siam and Burma, 1775-1950, Asian Art Museum, 2009.