Historically, gold has been as coveted in Asia as much as anywhere else. Indigenous sources, such as in Sumatra, allowed it to be sourced from within, and traded around, the region.
Here we present gold objects from India, Indonesia, China, Sri Lanka, the Himalayas and the like.
Provenance is important and so all our gold items have been sourced from within the UK, often from old, colonial-era collections.
Each piece is for sale, and each has been selected for its artistic merit, patina and provenance.
Do
sign-up
for our monthly catalogues so you can see new additions to our stock as they arrive.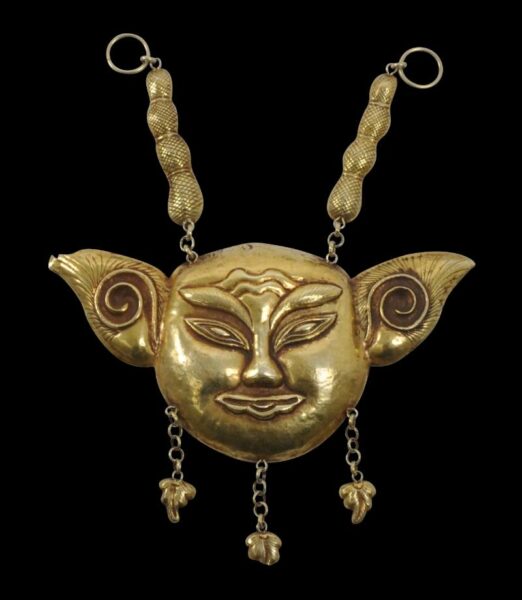 7299
South Maluku, (Moluccas), Eastern Indonesia 19th century
width of mask: 10.8cm, length of seedpod-like elements: approximately 5.2cm, weight: 28g
Provenance
Estate Collection of Tom White MBE; lot 222, 'Gold: Important ancient and ethnic jewellery and works of art in precious metal', Hapsburg, Feldman, Geneva, Switzerland, May 14, 1990.