India is largely Hindu, but from the early 16th century, northern India was ruled by a Muslim dynasty with origins in Central Asia and who became known as the Mughals.
Mughal court arts evolved as a blend of traditional Central Asian influences mixed with influence from Persia.
The items on this page are examples of Mughal and Islamic art from India.
Each piece has been sourced from within the UK, often from old UK collections. Indeed, because of its colonial past, the UK is the best place to find well-provenanced, authentic Indian antique art.
Each item is available for sale.
We also have separate pages for
Indian Bronzes
,
non-Mughal Indian antiques
,
Colonial Indian Silver
, and
Mughal Silver
. Additional Indian textiles that we have in stock are to be found in our
Textiles
section.
Do
subscribe
 to our monthly catalogues so you can see new additions to our stock as they arrive.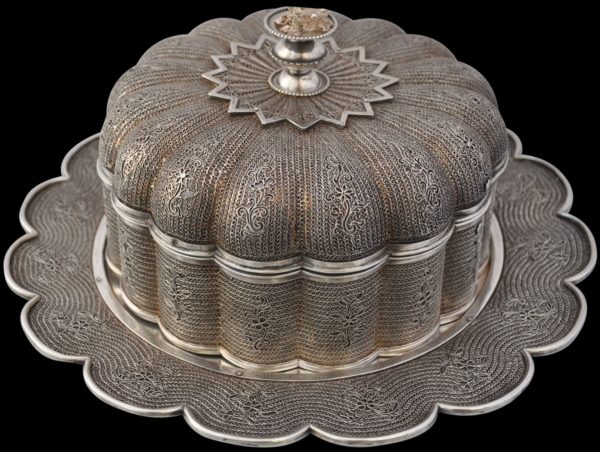 6251
Dutch East Indies, probably Batavia 18th century
diameter of tray: 28cm, diameter of box: 19.5cm, height of assembled set: 15.8cm, weight: 2,254g (2.254kg)
Provenance
private collection, London; acquired in London prior to that.