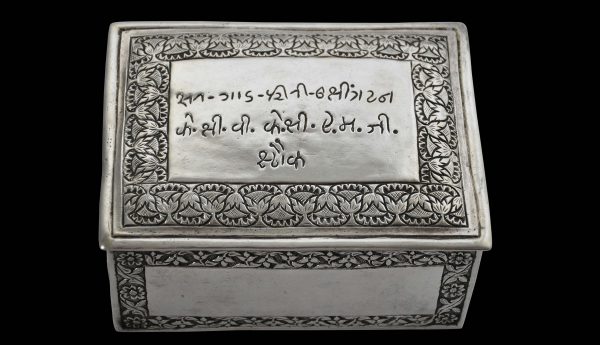 4240
Enquiry about object: 4240
Chased Silver Lidded Box with Gujarati Inscription
India 18th-19th century
length: 11.9cm, height: 6cm, width: 8.5cm, weight: 332g
– scroll down to see further images –
This fine, lidded box is of high-grade and most probably pure silver (in which case it is more pure than sterling silver).
The dimensions are those of a Mughal or northern Indian perfume box.
The lid is slightly domed and has a wonderful border of Scottish thistle motifs. The central rectangle i s plain other than for an inscription in Gujarati. One translation for the script is: 'Sun Gaad Parini Shrington K.C.V Keshi M G Stock' which appears to be a personal name along with some honorifics.
All the other sides have plain rectangular fields surrounded by Mughal-inspired floral and foliate borders.
The thistle motif on the lid probably has a direct relationship with the Scottish thistle. Other 19th century items produced in India had this motif, including silver items made in Lucknow – and many Scots served in the colonial administration in India.
There are no makers or assay marks. The box is in excellent condition with a fine, waxy patina associated with pure silver.
References
Markel, S. et al, India's Fabled City: The Art of Courtly Lucknow, LACMA/DelMonico Books, 2010.