"The (people) of Ceylon are very crafty and grand artists in the working of gold, silver, ivory, iron and all metals, which is a marvel to see, and which is held in very high esteem through all India, and carries a price above that of all other Indians."
-  so said the Dutch merchant & traveller Jan Huyghen van Linschoten (1563-1611), writing around 1584.
Some of the most beautiful luxury goods made anywhere in the 16th-18th century came from Sri Lanka (Ceylon), and some of the fine examples that we have had are now in public museums in the US, France, Australia & Singapore.
Each of our pieces has been sourced from within the UK, typically from old, private collections.
Do
subscribe
to our monthly catalogues so you can see new additions to our stock as they arrive.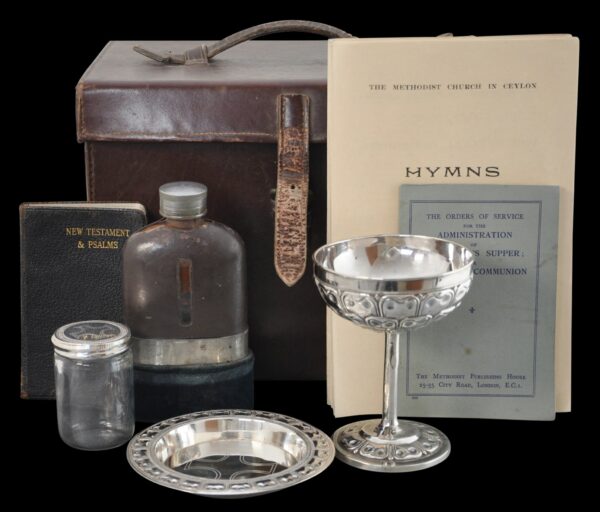 8844
Sri Lanka circa 1920
height (of case): 19.5cm, width (of case) 25.2cm, depth: 18.3cm, height (of chalice): 11.2cm, diameter (of chalice): 8.8cm, diameter (of paten): 11.4cm, weight (of chalice): 159g, weight (of paten): 66g