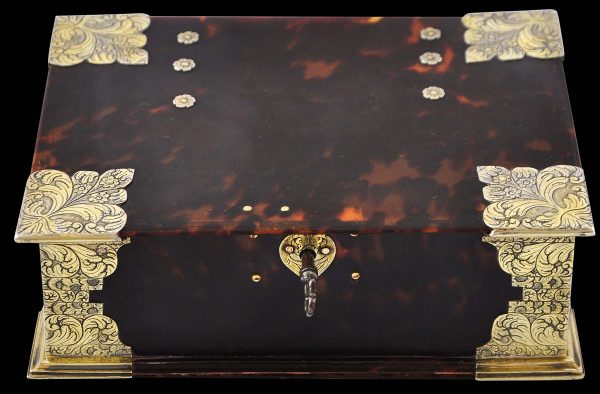 1010
Enquiry about object: 1010
Sri Lankan Tortoiseshell Betel Box with Engraved, Parcel-gilt Silver Mounts
Sri Lanka late 18th century
length: 16cm, width: 12cm, height: 5.2cm, weight: 305g
This elegantly proportioned tortoiseshell box is unusual for its silver mounts both for the type and quality of the engraving on them and because they are parcel (part) gilded. The mounts are engraved with an unusual flower and scrolling foliage design segmented and laid out within a repeating geometric design, a device known as tundan veda (Coomaraswamy, 1956, p.67).
The silver-gilt keyplate is shaped and engraved in the form of two addorsed parrots or korales known as the bherunda pakshaya motif (Coomaraswamy, 1956, p85). It is a common design in Sri Lankan artwork. The form also was used in pendent designs for jewellery (see the image below from an old postcard which shows a Sinhalese woman wearing a bherunda pakshaya pendant necklace richly embellished with stones.) The lock retains its original key.
The lid or cover attaches to the box by means of two hinges with lengthy, engraved braces fitted to the interior of the box.
The local habit of chewing betel in Sri Lanka and Batavia was adopted by the Dutch and they commissioned exquisite boxes to hold the nut, the betel leaf and the other accompaniments. They realised early on how important betel was to the indigenous people and how it was an essential part of hospitality including with the indigenous rulers. They quickly incorporated betel use with their dealings with local elites and the habit extended to their private lives as well.
The box is in fine condition. There is a small, stable crack to the tortoiseshell panel on the back of the box. There are no losses and no repairs.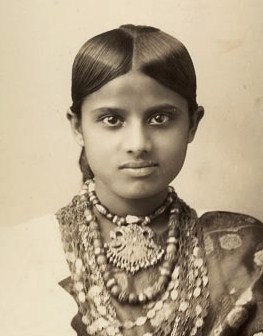 The bherunda pakshaya motif is shown on the necklace worn here. It is the same type of motif as on the key plate of this box.
References
Coomaraswamy, A.K., Mediaeval Sinhalese Art, Pantheon Books, 1956.
Veenendaal, J., Furniture from Indonesia, Sri Lanka and India During the Dutch Period, Foundation Volkenkundig Museum Nusantara, 1985.