Most of our clients for Straits Chinese items are based in Singapore & Malaysia. Singapore's Peranakan Museum is among our clients.
The Straits Chinese, also known as the
nonyas
(for the females) and the
babas
(the men), as well as the
Peranakan
Chinese of Indonesia, are the localised Chinese who have been in Southeast Asia for many generations and whose cultures became a blend of Chinese and Malay & Javanese characteristics. They differ to the more newly arrived Chinese (referred to as the
sinkeh
or
totoks
) because of this acculturation.
The objects here were made by, or for, members of the localised Chinese communities of Southeast Asia.
All the items have been sourced from within the UK, often from old colonial-era collections, and all items are available for sale right now.
Do
sign-up
for our monthly catalogues so you can see new additions to our stock as they arrive.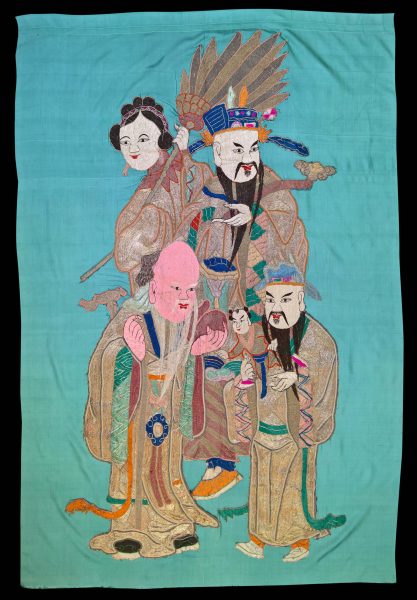 5315
China, exported to the Straits Settlements 19th century
dimensions of backing material: 120cm x 84cm
Provenance
collected by Alwyn Sidney Haynes (1878-1963), and thence by descent. Haynes was a colonial administrator in Malaya and the Straits Settlements between 1901 and 1934. He held many posts including Acting British Resident, Pahang (1924); British Resident, Perak (1925); British Advisor, Kedah (1925); British Advisor, Kelantan (1930); and Acting Colonial Administrator, Straits Settlements (1933), after which he retired and returned to England, and lived near Stratford-upon-Avon, and then in Leamington Spa. Haynes loaned some of the items he collected in Malaya to the Pitt Rivers Museum in Oxford in 1939. He was awarded an Order of the British Empire (OBE) in 1950.