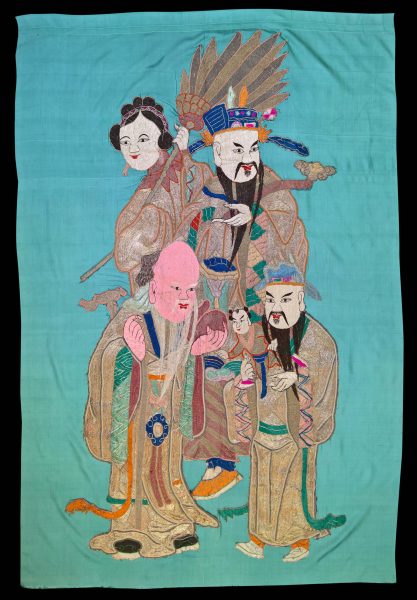 5315
Enquiry about object: 5315
Embroidered Chinese Wall Hanging with Shou (寿) & other Daoist Deities
China, exported to the Straits Settlements 19th century
dimensions of backing material: 120cm x 84cm
Provenance
collected by Alwyn Sidney Haynes (1878-1963), and thence by descent. Haynes was a colonial administrator in Malaya and the Straits Settlements between 1901 and 1934. He held many posts including Acting British Resident, Pahang (1924); British Resident, Perak (1925); British Advisor, Kedah (1925); British Advisor, Kelantan (1930); and Acting Colonial Administrator, Straits Settlements (1933), after which he retired and returned to England, and lived near Stratford-upon-Avon, and then in Leamington Spa. Haynes loaned some of the items he collected in Malaya to the Pitt Rivers Museum in Oxford in 1939. He was awarded an Order of the British Empire (OBE) in 1950.
This large panel of couched embroidery in multi-coloured silk thread, which has been tacked onto a green cotton backing sheet, was collected by a colonial administrator whilst serving in the Malay Peninsular in the early 20th century.
The embroidery shows Shou-hsing, the Daoist deity associated with longevity; the Queen Mother of the West (Hsi Wang-mu); Lu-hsing, the god of official title; Fu-shen, the god of happiness; and an infant.
The banner would have been hung in a local Chinese house, perhaps belonging to a Straits Chinese family, although most probably the embroidery was imported to the Straits Settlements from China.
It is in fine condition. There are loose threads here and there but the colours are bright and there is no insect damage. The item has been in storage for many decades, hence it's relatively fine condition.
A similar panel, attributed to circa 1915 is in Spain's Museo Oriental, and is illustrated in Sierra de la Calle (2004, p. 200). Other similar panels attributed to the 19th century are illustrated in Jacobsen, (2000).
Double click on each image below (and then again) to see the detail.
References
Jacobsen, R.D, Imperial Silks: Ch'ng Dynasty Textiles in the Minneapolis Institute of Arts, Volume 2, The Minneapolis Institute of Arts, 2000.
Knapp, R.G, The Peranakan Chinese Home: Art and Culture in Daily Life, Tuttle, 2012.
Sierra de la Calle, B., Museo Oriental: China, Japon, Filipinas – Obras Selectas, Museo Oriental, 2004.