Silver objects started to be made in significant quantities in India for the local colonial and European export markets from the late 18th century. The decoration became increasingly unmistakably Indian, even if the forms remained identifiably European, as the 19th century progressed. The main centres for this output were Bombay, Calcutta, Kutch, Kashmir and Madras. Sri Lanka was another source for South Asian silver.
Each item of colonial Indian silver shown here is for sale.
We also have a separate page for
Mughal Silver
- which tended to be made for the local, northern Indian market with form and decoration in keeping with the Islamic-Mughal aesthetic.
Each of our pieces here has been sourced from within the UK, typically from old, private collections, and Indian silver items from us are now to be found in museums around the world.
Do
sign-up
for our monthly catalogues so you can see new additions to our stock as they arrive.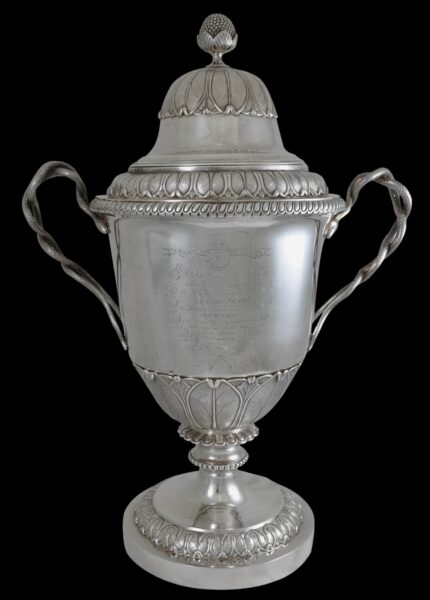 6728
colonial silversmith either in India, probably Calcutta, or Batavia, East Indies. circa 1810
height: approximately 55cm, width: 38.5cm, depth: 26cm, weight: 5,550g
Provenance
Collection of Julian Sands (UK); previously sold at Sotheby's London, 1991.