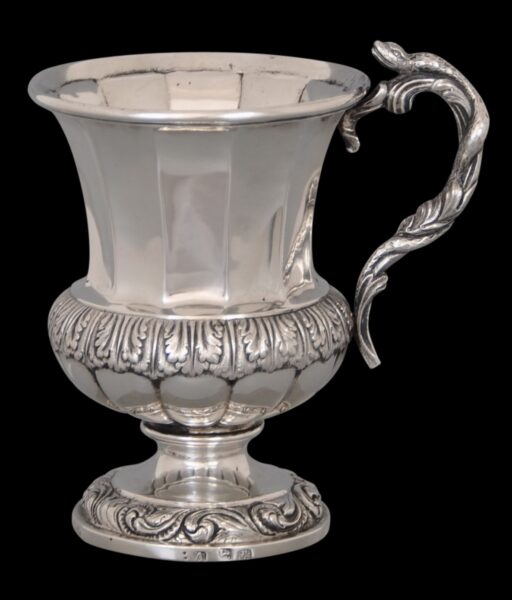 8639
Enquiry about object: 8639
Colonial Indian Silver Cup by Pittar & Co.
Calcutta, India 1831-1848
height: 11.5cm, width: 8.5cm, depth (including handle): 11.4cm, weight: 265g
Provenance
private collection, England
This unusual and well-made silver christening cup or mug stands on a domed foot chased with a leafy border, has a scalloped base that rises to a raised mid-section chased and engraved with acanthus leaves, and then the rest of the body of the cup that has been gadrooned with twelve sides. The solid cast handle has been shaped as a leafy branch around which a lizard is entwined.
The cup has maker's marks for Pittar & Company, a relatively rare colonial Indian silversmith which operated in Calcutta between 1831 and 1848.
The rim of the foot is punched with the maker's mark stamp of 'P&Co', a lion passant, the letter 'A', and two smaller marks.
There is a brief, fine and lightly engraved dedicatory inscription to the front of the cup.
The cup is in excellent condition and has a good weight in the hand. The silver content is likely to be sterling grade.
References
Wilkinson, W.R.T, Indian Colonial Silver: European Silversmiths in India (1790-1860) and their Marks, Argent Press, 1973.