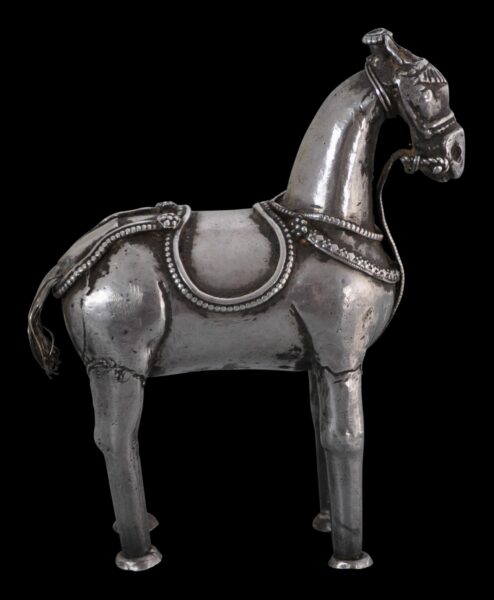 8745
Enquiry about object: 8745
Indian Khandoba's or Aiyanar's Horse in Silver
South India 17th-18th century
height: 13.2cm, length: 10.8cm, width: 4cm, weight: 148g
This early model of a horse in high-grade, solid silver shows the horse mount either of the god Khandoba, Aiyanar or Madurai Veeran, the hero of Madurai, the important south Indian temple town. Both are popular deities in Tamil Nadu and so draw on the same worshippers or followers.
The well-modelled horse has fine jewelled bridles and other decoration. The tail is of silver wire strands. A finial to the top of the head might have held similar decoration or was installed to allow an observant owner to insert a small flower or feather.
Aiyanar (also spelt Ayyanar, Ayanar or Iyenar) is a village deity of Tamil Nadu. He is primarily worshipped as a protective guardian deity. Most Hindu priests with a strong attachment to Aiyanar are from the local potter community, but other caste members also officiate in his temples. The linkage with potters accounts for the large numbers of terracotta models of horses to be found in the grounds of Aiyanar temples in those parts of Tamil Nadu where Aiyanar worship is practiced. These models are there for the god to use at night when he emerges from the temple. It is why many of these models verge on being life-size.
Madurai Veeran (also known as Muthu Kumaran) is a Tamil folk deity popular in Tamil Nadu. He is the protector of the city of Madurai. His worship is also popular amongst the Tamil diaspora in Malaysia, Singapore and South Africa.
The horse here is in fine condition. The silver has a splendid patina, with the contours softened by handling and devotional wear.
References
Pal, P.,  Art from the Indian Subcontinent: Asian Art at the Norton Simon Museum, Yale University Press, 2003.