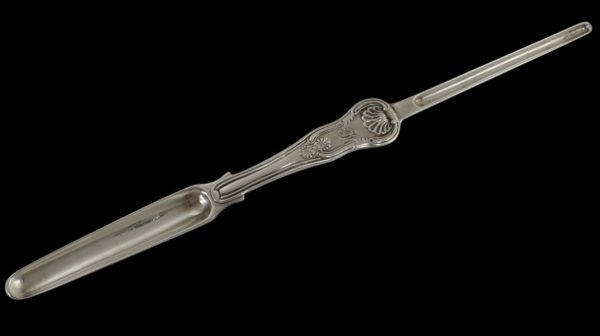 6582
Enquiry about object: 6582
Colonial Indian Silver Marrow Spoon or Scoop by Hamilton & Co.
Calcutta, India circa 1820
length: 25.5g, weight: 76g
This elegant, solid silver marrow scoop or spoon was made by the colonial Indian silversmithing firm Hamilton & Co. of Calcutta.
It has long thin bowls, of different sizes, suitable for removing marrow from a bone at either end. Such spoons were popular in 18th and early 19th century England. Most were made in Britain; colonial examples are much rarer.
It has been cast on both sides with pleasing Rococo-inspired shell-form flourishes.
Hamilton & Co. used a variety of maker's and other marks in place of proper assay or hallmarks that would have been used in England and Scotland. The marks on this piece include the initials 'H&Co.', an elephant, and the letter 'A'.
Hamilton & Co. was founded in Calcutta around 1815. According to Wilkinson (1999, p. 53) it operated from premises at 7 Old Court House Street in Calcutta for at least some of its life.
The spoon has also been engraved on the front with the initial 'F', presumably for its original owner.
The spoon is in very fine condition.
References
Wilkinson, W.R.T., Indian Silver 1858-1947, 1999.