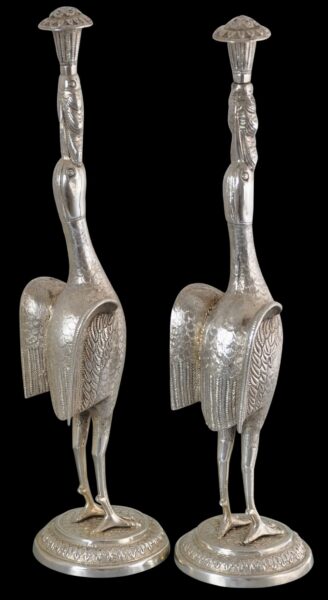 8752
Enquiry about object: 8752
Pair of Kutch Indian Silver Cormorant Rosewater Sprinklers
Kutch, India circa 1890
height: 29.5cm, width 7.8cm, combined weight: 574g
This pair of whimsical silver rosewater sprinklers is designed as tall, slender cormorants, each about to swallow a large fish that holds a flower in its mouth. The flower is perforated and acts as the head of the sprinkler through which scented water is emitted.
Each cormorant has two clawed feet which rest on a raised circular base decorated with floral patterns. Its body is delicately engraved with fine feathers. The wings of the bird are slightly out-stretched enhancing the dynamism of the composition.
Rosewater sprinklers in this form were produced in Kutch.
An almost identical example is illustrated in Dehejia (2008, p. 148).
The pair here is in perfect condition. There are no maker's marks. The fact that the two here are available as a matched pair is important: most such pairs have been broken up, but generally rosewater sprinklers were used in pairs.
References
Dehejia, V., Delight in Design: Indian Silver for the Raj, Mapin, 2008.