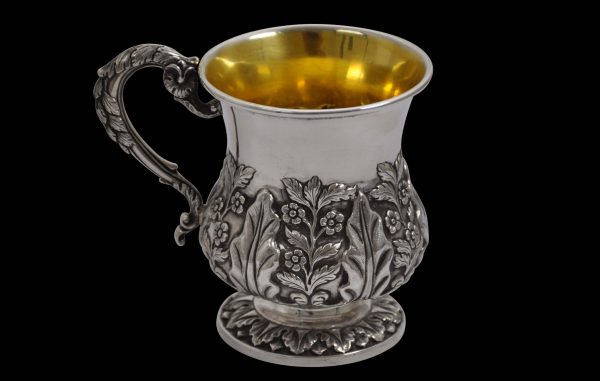 5254
Enquiry about object: 5254
Colonial Indian Silver Mug
India, probably Calcutta circa 1840
height: 9.2cm, weight: 172g
Provenance
private collection, Channel Islands.
This silver mug was made in colonial India in the first half of the 19th century. Of baluster form, with a flared foot, and with an 'S'-shape handle, it is of particularly pleasing proportions.  It is beautifully chased on the foot and over the swollen base with acanthus leaves and floral sprays. The interior retains its original gilding and this has softened with age providing a fine contrast between the glowing interior and the silver exterior.
A similar though not quite as fine example attributed to the Calcutta firm of silversmiths Hamilton & Co is illustrated in Wilkinson (1999, p. 66).
No obvious assay or maker's marks are present.
Overall, this is a fine and very pleasing example of early colonial Indian silver.
References
Bennett, J., (ed.). , Realms of Wonder: Jain, Hindu and Islamic Art of India, Art Gallery of South Australia, 2013.
Wilkinson, W.R.T., Indian Silver 1858-1947, 1999.