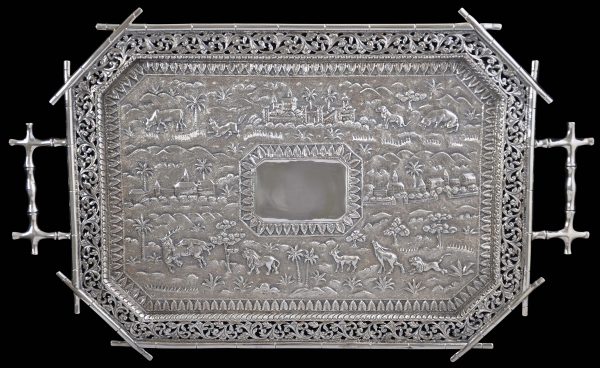 3099
Enquiry about object: 3099
Colonial Indian Chinese-Style Silver Tray
Karachi, India/Pakistan circa 1910
length: 38.8cm, width: 24cm, weight: 615g
This unusual silver tray is interesting for its cross-cultural nature – it is an Indian copy of a Chinese tray.
The base of the tray is very finely repoussed with Kutch-like animal scenes along with scenes of towns, all amid shrubs and hills. A central cartouche is plain. The whole is bordered by a row of acanthus leaves. The rim is pierced with Kutch-like scroll-work, and then bordered with bamboo-like edging, matched by bamboo handles.
The tray sits on four small feet that are chased with vegetal decoration.
A related but smaller and less detailed tray is illustrated in Wilkinson (1999, p. 91). The Wilkinson example is attributed to the silversmith J. Manikrai.
Many silversmiths left Kutch and settled in Karachi as a result of the 1899 famine in Kutch. They re-established their workshops in Karachi. They soon developed a style that is distinctive from, although similar to, the work that continued to be done in Kutch.
The tray here is in excellent condition. There is little wear to the details and no splits or repairs.
References
Wilkinson, W.R.T., Indian Silver 1858-1947, 1999.