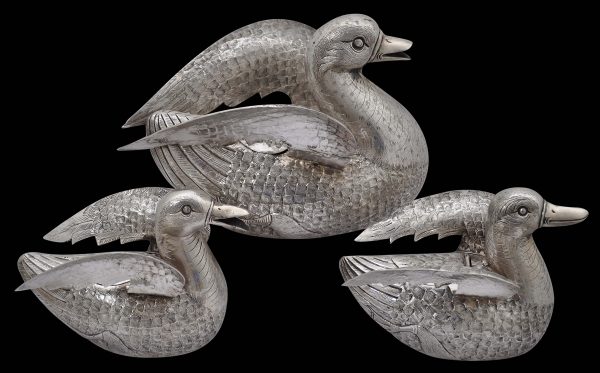 2222
Enquiry about object: 2222
Indian Three-Piece Silver Tea Set in the Form of Ducks
India circa 1890
length of teapot: 21.5cm, height: 16.5cm, weight of teapot: 646g, weight (combined): 1,244g
This rather extraordinary and whimsical set of three ducks in cast, hammered, chased and engraved solid silver is actually a three-piece tea set. The manner of the construction, grade of silver used, and motifs all point to colonial Indian craftsmanship. The shapes of the heads and beaks, and the feathers are particularly naturalistically rendered.
Each of the ducks is portrayed with the wings extended and the feet tucked to the sides of its body. The teapot and creamer are denoted by the beaks being slightly open to permit liquid to flow out. The sugar bowl has been executed with the beak closed.
Each has a hinged lid to the back of the duck.
There are no maker's or other marks. The set is in excellent condition. Overall, it is one of the more extraordinary examples of Indian silverwork that we have seen.
References
Dehejia, V., Delight in Design: Indian Silver for the Raj, Mapin, 2008.