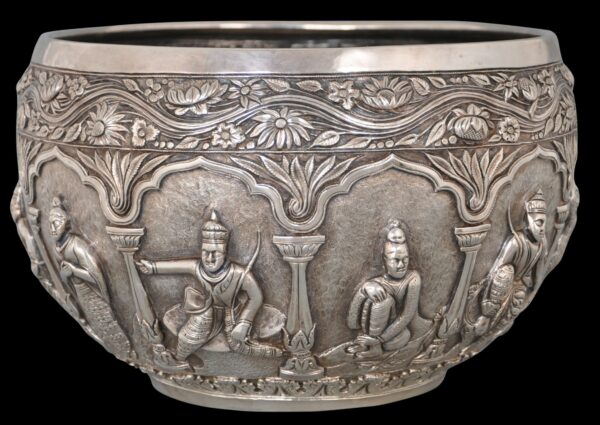 8465
Enquiry about object: 8465
Large Indian Poona Silver Bowl
Poona, India circa 1880
width: approximately 26cm, height: 15.5cm, weight: 1,310g
This large, heavy and impressive bowl of high-grade solid silver is from Poona (Pune), which is around 150 kilometres south-east of Bombay (Mumbai). It is repoussed in high relief with ten scenes of figures in traditional Indian Maharashtran attire beneath cusped arches and below a wide and especially good border of a dynamic and flowing stream of various flowers. The lower border features an acanthus leaf fringe. The figures most probably are based on characters in the Ramayana, the famous Indian epic.
Poona is cooler than Bombay and so functioned as the colonial administrative headquarters of Bombay during the summer months. This helped to develop the town which saw the demand for local silversmiths to cater to the colonial market. The silversmiths there seemed to be familiar with Burmese silverwork and to have based their techniques and themes on those commonly seen on colonial Burmese silver.
The bowl is in fine condition. The walls have a thick gauge and so the bowl is heavy in the hand.
References
Dehejia, V., Delight in Design: Indian Silver for the Raj, Mapin, 2008.
Wilkinson, W.R.T., Indian Silver 1858-1947, 1999.