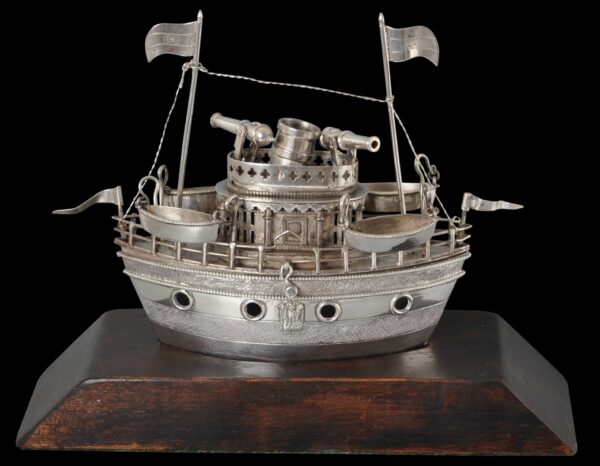 9383
Enquiry about object: 9383
Indian Silver Model Ship
Northern India circa 1950
height (without base): 15cm, length: approximately 16cm, depth: approximately 6cm, overal height (including base): 19cm, weight (of silver): 396g
This charming model of a three-decked ship was produced in silver in northern India probably around 1950 perhaps as a souvenir of India's new Independence. Silver models or varying sizes were produced at the time and were designed to appeal to colonial administrators and visitors, and anglicised ruling princes and merchants.
It retains its original carved ebonised wooden stand. The model sits on the stand but is not attached to it.
The ship is complete with four life boats,eight port holes, rigging done in silver wire, flags, and two cannons.
The main flags are reminiscent of India's post-Independence flag. The sides are also emblazoned with small lion capital of Ashoka emblems which independent India adopted as its state emblem.
The model ship and stand are all in excellent condition.