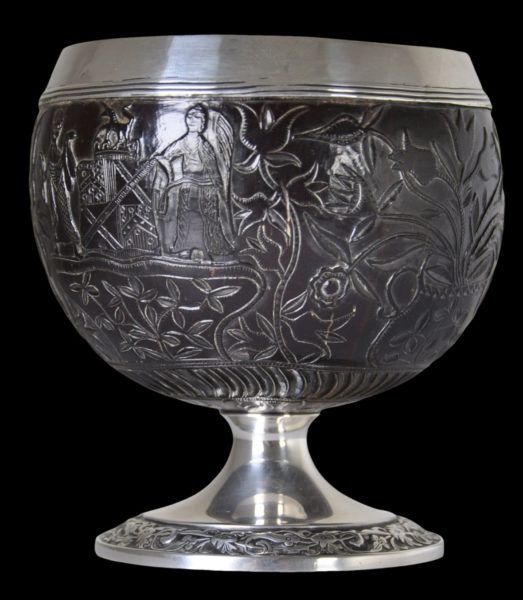 6139
Enquiry about object: 6139
Colonial Silver-Mounted Coconut Cup
probably Colonial Sri Lanka 18th century
height: 12cm, diameter: 11cm weight: 167g
This very fine cup or goblet comprises a carved coconut shell with silver mounts.
The nut is carved with a coat of arms which is similar to that of Jamaica – with two native-type figures either side of a shield that is mounted with a crown and an animal. The rest of the nut is beautifully carved with creepers and other foliage.
The nut has superb patina and clear age. An 18th century dating seems reasonable.
The top rim is edged with high-grade sheet silver.
The foot is flared and is chased with typically Sri Lankan foliage and flower scrollwork.
A possibility, is that the nut was carved in the Caribbean and was mounted with silver in Sri Lanka. This would be reflective of trade routes but also possibly of migration – Sri Lankan and South Indian Tamils did migrate to the Caribbean to work in the sugar plantations and also to operate as small business people and money lenders.
In any event, the cup of goblet is a fine items, with an excellent patina and a wonderful trade-related past.
References
Vassallo e Silva, N., et al, Stories of an Empire: Tavora Sequeira Pinto Collection, Museu do Oriente, 2022.