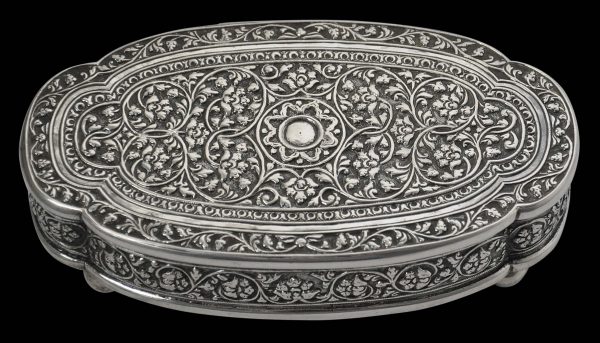 4245
Enquiry about object: 4245
Sri Lankan Chased, Oblong Silver Box
Kandy, Sri Lanka circa 1900
length: 14.3cm, width: 7.8cm, height: 3.8cm, weight: 228g
– scroll down to see further images –
This box, of unusual form, is of solid silver is a fine example of Kandy silver chasing work prevalent in the late nineteenth century. Chased silver caskets appealed to colonialists and their wives, but also to local Kandyan aristocratic families.
This example stands on four spherical feet. The lid is hinged and fits tightly. The casket is in the form of an oval with scalloped ends. It is very finely chased on all sides with typically Kandyan scrolling foliage and flowers within floral borders.
The casket is in fine condition. There are no repairs, dents or splits.
References
Coomaraswamy, A.K., Mediaeval Sinhalese Art, Pantheon Books, 1956 reprint of the 1908 edition.