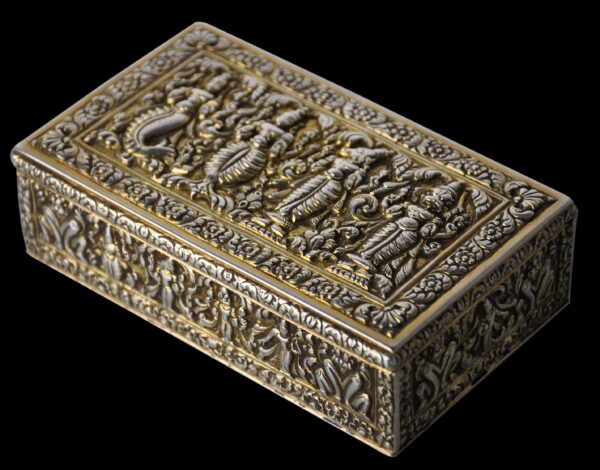 9263
Enquiry about object: 9263
Colonial Trichinopoly Gilded Silver Snuff Box
Trichinopoly, South India circa 1870
length: 10.5cm, width: 6.4cm, thickness: 3.3cm, weight: 282g
Provenance
Private collection of Julian Sands.
This larger-than-typical snuff box is of gold-plated repoussed and chased silver. Its decoration and form is typical of colonial Trichinopoly silverwork from South India.
The box is surprisingly heavy-in-the-hand, partly as a result of it being double walled such that the gilded interior is smooth.
The hinged lid is decorated with various avatars of Vishnu, including Matsya (the fish avatar) and Varaha (the boar avatar), amid dense foliage and flowers, within a floral border. The edge of the lid is similarly decorated with flower work in relief. All sides have further panels showing further deities, avatars and yali-type creatures that sit on their haunches.
At one stage, Trichinopoly (known as Tiruchirappalli today) was a French concession. Later it was administered by the British East India Company, and then the British colonial administration.
Although less than 350 kilometres from Madras, its silversmiths developed a unique style that incorporated the 'swami' style of Madras with incredibly dense and fine floral and foliage relief work. The silver and gold items produced in Trichinopoly tend to be small, luxurious items such as snuff boxes and perfume bottles. Trichinopoly silverwork is relatively rare among colonial Indian silverwork.
This box is in fine condition. There is some age-related wear to the extremities. It has a fine patina. The lid fits well and tightly. There are no dents, splits or repairs.
References
Dehejia, V., Delight in Design: Indian Silver for the Raj, Mapin, 2008.
Wilkinson, W.R.T., Indian Silver 1858-1947, 1999.