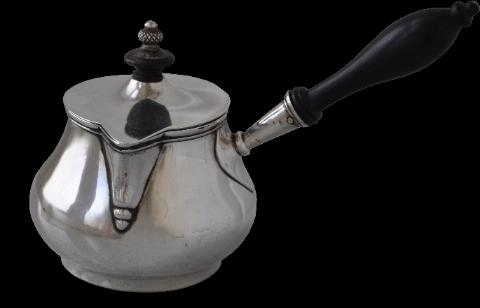 1843
Enquiry about object: 1843
Colonial Indian Silver Brandy Warmer by Lattey Brothers & Co.
Calcutta, India 1843-1855
length: 19cm, weight: 254g
This colonial brandy warmer is particularly pleasing for its shape and the beautiful colour of the silver. The warmer is stamped to the base with marks for Lattey Brothers & Co, a colonial silversmithing firm that operated in Calcutta between 1843 and 1855.
The lid fits tightly and is surmounted by a stained tropical dark wood finial topped by a silver acorn and cupule. The turned handle is also of stained dark wood.
See Wilkinson (1973, p. 86) for a similar Lattey brandy warmer, although the illustrated example is without a lid.
The example here is in excellent condition. It is free of dents or splits. A small mend to the underside of the base made at the time of manufacture or shortly after is just visible but only when the warner is turned upside down. The wood mounts are free of significant shrinkage and chips. Overall, this is a high-quality and elegant example of colonial Indian silverwork made for local European use.
References
Wilkinson, W.R.T, Indian Colonial Silver: European Silversmiths in India (1790-1860) and their Marks, Argent Press, 1973.