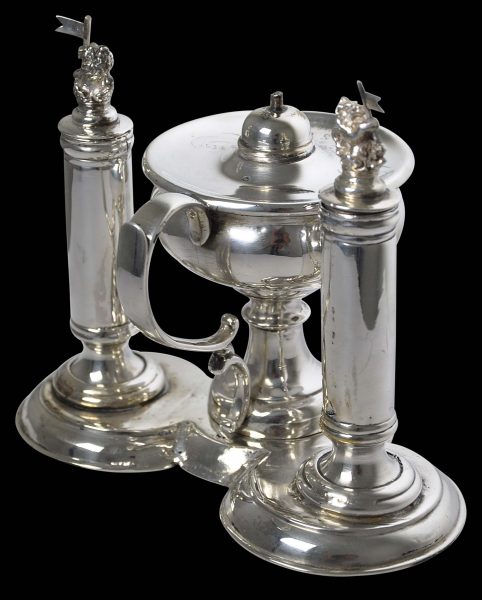 2214
Enquiry about object: 2214
Regimental Indian Silver Table Lighter by Hamilton & Co.
33rd Duke of Wellington Regiment, India dated 1873
height: 13cm, width: 15.5cm, weight: 392g
This table lighter was produced by Hamilton & Co, a form of colonial silversmiths that was in operation in Calcutta by 1815. It was commissioned for the 33rd Duke of Wellington Regiment and was presented in May 1873, according to an inscription engraved to the lamp.
The set comprises a central lamp and on either side, column that house the wicks from which officers could light their cigars after dinner. The handle for each wick comprises a rampant lion holding a standard – the insignia of the 33rd Duke of Wellington Regiment used on the Regiment's cap badge.
Battalions from the regiment served in most land conflicts involving British forces since its formation, including the American War of Independence, the Napoleonic Wars, numerous campaigns in India, the Second Boer War, numerous battles in World War I, and the Third Anglo-Afghan War in 1919.
The set is in fine condition with a good patina. The inscription is well polished and slightly obscured because of it. The base is stamped with 'H&Co.' for Hamilton & Co.
References
Wilkinson, W.R.T, Indian Colonial Silver: European Silversmiths in India (1790-1860) and their Marks, Argent Press, 1973.