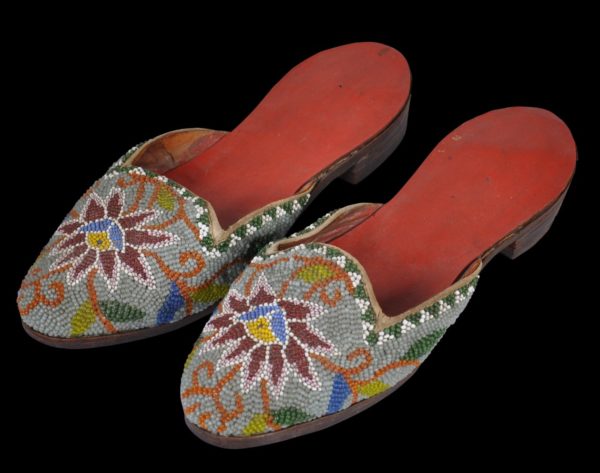 5810
Enquiry about object: 5810
Glass Beaded Wedding Slippers (Kasut Manek)
Straits Chinese Community, Singapore, Malacca or Penang circa 1920
length: 25cm
This pair of slippers with its beaded upper and low-heeled leather sole was intended for a Straits Chinese lady or nonya, most probably as part of a wedding costume.
The beadwork is densely packed and shows flower blooms against a light grey-blue ground.
Rocaille beads were made in southern France and were widely used in Singapore and the other Straits Settlements for beading slippers, wedding pillow ends, betel set mats and other paraphernalia associated with baba/nonya culture. The Straits Chinese referred to the beads as manek potong ('cut beads') and acquired them from street peddlers and specialist merchants for the purpose of beading and embroidery
The pair is in good condition. They have been used – there is wear to the sole but there are no losses to the beads and no repairs. The sole of each is impressed with '42' to denote shoe size.
References
Cheah, H.F., Phoenix Rising: Narratives in Nyonya Beadwork from the Straits Settlements, NUS Press, Singapore, 2010.
Ee, R., et al, Peranakan Museum A-Z Guide, Asian Civilisations Museum, 2008.
Ho, W.M., Straits Chinese Beadwork & Embroidery: A Collector's Guide, Times Books International, 1987.
Khoo, J.E., The Straits Chinese: A Cultural History, The Pepin Press, 1996.