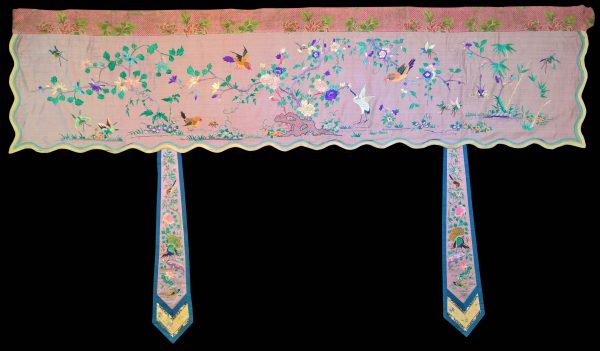 5319
Enquiry about object: 5319
Finely Embroidered Straits Chinese Silk Wedding Valance
Straits Chinese, Straits Settlements (Singapore, Penang, Malacca) circa 1900
wdith: 175cm, length (including tassel hangings): 103cm
Provenance
Acquired by a former colonial British Resident Advisor to Kelantan in the early 20th century, and has been in England since.
This silk valance (bin ch'ng chai) was used in conjunction with a Straits Chinese wedding and decorated the wedding poster bed or perhaps was hung from the lintel of a door, possibly the door to the bridal chamber.
It comprises a rectangular upper section from which two elongated-diamond shaped hangings are suspended.
The valance has a pink silk ground and is embroidered in multiple colours with auspicious symbols such as humming birds, dragonflies, mandarin ducks, cranes, peacocks and butterflies amid beautiful flowers.
The quality of the embroidery is high.
The valance is in near-perfect condition with some fraying only to the backing material but none to the silk embroidered panel itself. It is bright with little fading.
It was part of the estate of an English colonial administrator who brought it back to England in the 1930s (or earlier). It has been in the UK ever since.
References
Cheah, H.F., Phoenix Rising: Narratives in Nyonya Beadwork from the Straits Settlements, NUS Press, Singapore, 2010.
Cheah, H.F, Nyonya Needlework: Embroidery and Beadwork in the Peranakan World, Asian Civilisations Museum, 2017.
Cheo, K.B., A Baba Wedding, Marshall Cavendish, 2009.
Ee, R., et al, Peranakan Museum A-Z Guide, Asian Civilisations Museum, 2008.
Ho, W.M., Straits Chinese Beadwork & Embroidery: A Collector's Guide, Times Books International, 1987.
Khoo, J.E., The Straits Chinese: A Cultural History, The Pepin Press, 1996.