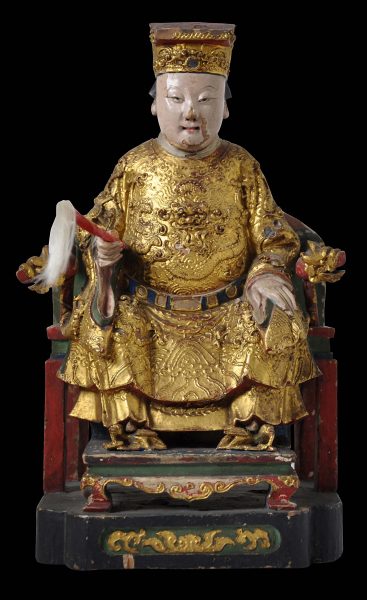 4021
Enquiry about object: 4021
Carved & Polychrome Image of Chu-sheng Niang-niang (the Goddess who Registers Births), Fuzhou Chinese, early 20th century
Hokkien, Teochiu & Fuzhou Chinese Communities in Southeast Asia & China early 20th century
height: 27cm, width: 14cm
Provenance
Private Collection, Keith Stevens, UK.
This statue, from the collection of Keith Stevens, the author of the leading book on Chinese temple deities, is carved from wood and has been decorated with polychrome and gold paint as well as small mirrored inserts. Stevens identified it as an image of Zhu-Sheng Niang-Niang – 注生娘娘 – the goddess of childbirth and with responsibility for registering births. Women wanting to conceive would pray to this deity.
The goddess is a deity in the Daoist pantheon. Her birthday is celebrated on the twentieth day of the third lunar month.
The image sits on a throne on a raised platform, She is corpulent, has splendid gilded robes decorated in relief with a dragon motif, and carries a whisk of horsehair. Her feet, which are tiny and have been bound, befitting her high-class status, rest on small birds.
Such a statue might have adorned an altar in a temple or could have been used on a private shrine in a house.
Many temples established by local Chinese communities in Southeast Asia have a shrine dedicated to her in one of the side halls.
The image might have been carved in China, most probably in Fujian, and used locally, or was exported to, or carved locally by, the Hokkien, Teochou or Fuzhou Chinese communities of Southeast Asia, particularly in Malaysia,
The image has various age-related losses as might be expected. There are losses here and there to the paintwork and the end of a thumb is missing, but otherwise the statue is in a fine, stable condition.
Illustrated:
This actual item is illustrated on page 119 – Steven, K., Chinese Gods: The Unseen World of Spirits and Demons, Collins & Brown, 1997.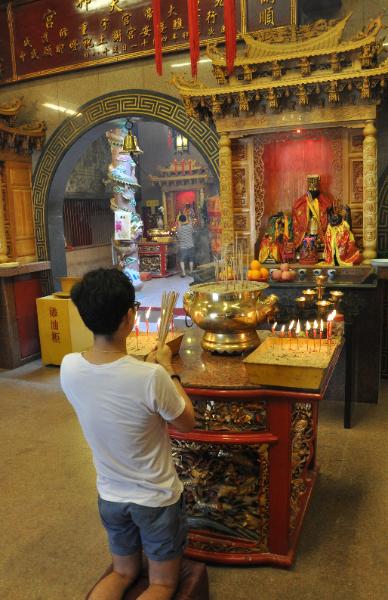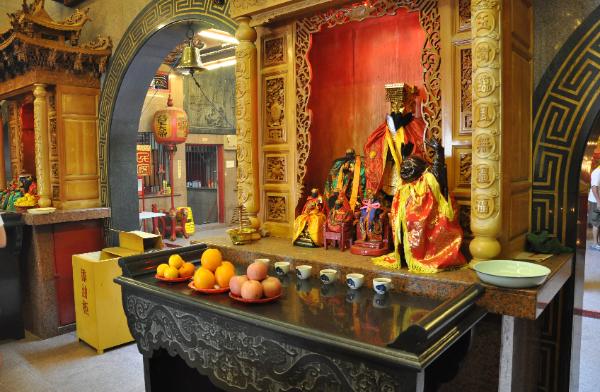 Chinese deities, Nine Emperors Temple, Ampang, Kuala Lumpur, Malaysia. The statue here might have been used in a similar temple.
(Photographed February, 2017).
References
Steven, K., Chinese Gods: The Unseen World of Spirits and Demons, Collins & Brown, 1997. :