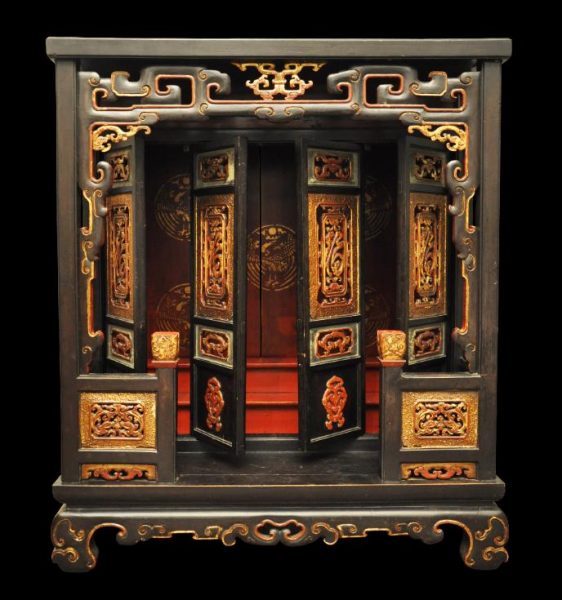 1944
Enquiry about object: 1944
Straits Chinese 'Brown & Gold' Ancestral Shrine Cabinet
Straits Chinese community, Straits Settlements (Malacca, Penang, Singapore) 19th century
height: 81cm, width: 70cm, depth: 47cm
This finely carved wooden shrine decorated in dark brown lacquer with gilded detailing was made to house a Straits Chinese family's ancestral tablets. It would have sat on the family altar table in the home. It has four separate doors. The doors have carved, pierced panels with gold highlights. The central panels of each of the four doors are carved with what appear to be leafy flourishes but are in fact stylised ideograms of the Chinese word for 'happiness'.
The interior is decorated in red lacquer and the backboard is further decorated with five large stencilled roundels of phoenixes in gold. The original two-stepped platform for the shrine tablets is still present, giving three steps in total including the floor of the cabinet.
A roofed portico is before the doors. Shortened balustrades feature gilded carved openwork. The lintel over the portico incorporates open-work panels with gold and red highlights and carved in a way to mirror decoration which appears on the doors.
The shrine stands on four rococo-style scrolling feet with gold highlighting.
A basic household altar set comprised an altar table, ancestral tablets or images of ancestors, and offerings. Wealthier families supplemented the altar with a shrine such as this one. The ancestral spirits were felt to dwell in the ancestral tablets placed in the shrine rather than in the shrine itself and so once the tablets are removed, little superstition attaches to the shrine.
Such shrines were made in China and exported to overseas Chinese communities in southeast Asia. Others were made locally, sometimes by expatriate woodcarvers from Xiamen and Shanghai.
A related example is on display in Singapore's Baba House Museum in Neil Road. The House is one of the few peranakan houses in Singapore still in its original condition. Another is displayed in Singapore's Peranakan Museum. Neither of these feature the 'red and gold' work so desired by the Straits or baba Chinese of Singapore, Malacca and Penang.
This example was acquired in the UK and most probably has been in the UK since the colonial era. It is in excellent condition for its age with no obvious losses to the carving and no repairs.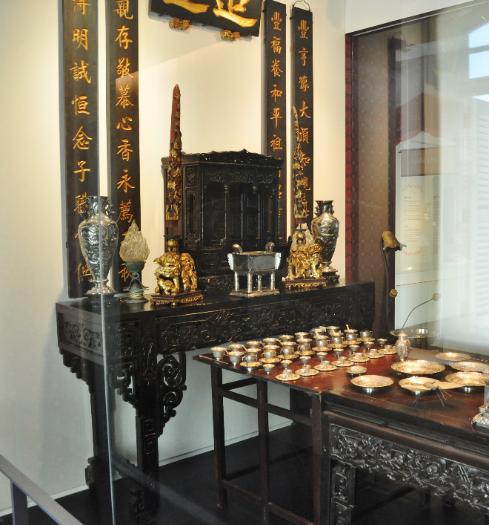 An ancestral shrine on an altar on display in Singapore's Peranakan Museum.
References
Ho, W.M., Straits Chinese Furniture: A Collector's Guide, Times Books International, 1994.
Ong, P.N., Brown & Gold: Peranakan Furniture from the late 19th Century to the mid-20th Century, Ong Poh Neo, 1994.