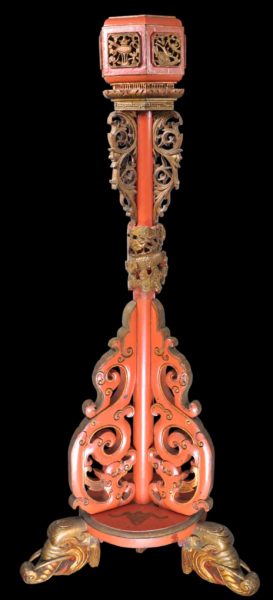 6579
Enquiry about object: 6579
Straits Chinese Red & Gold Floor Candle Stand
Straits Chinese or Peranakan people, Straits Settlements, Malaysia & Singapore 19th century
height: 111cm
This exceptionally-well carved, tall candle stand would have been placed on the side of an altar in the home of a wealthy Straits Chinese family in one of the Straits Settlements of either Singapore, Malacca or Penang during festive occasions.
It is of elaborately carved wood (probably namwood) that has been colour red with gold highlights.
It stands on three fabulous, somewhat comical feet shaped as tusked elephant heads. (In traditional Chinese culture, elephants are associated with longevity.) From here, the central baluster-form column is decorated with pierced, scrolling struts, atop which sits the octagonal, bud-like finial on which the candle sits. Each of the six sides of the finial is decorated with a gilded, pierced, carved panel.
A similar pair is in Singapore's NUS Baba House Museum and is illustrated in Foo et al (2016, p. 48). A related but less elaborate and probably later pair is illustrated in Khoo (1996, p. 79).  Other examples are shown in situ in Lee, P. & Chen  (1998, p. 58) and Knapp (2010, p. 45 & p. 120).
The Straits Chinese (also known as the babas and nonyas and also as the peranakan) were Chinese who had been in Southeast Asia for many generations and had become quite acculturated with the local indigenous populations. They did retain some vestiges of their mainland Chinese origins, usually those associated with religion and particularly wedding customs.
The stand is in excellent condition for its age. There are no repairs or losses. There is a shrinkage-related crack to just one of the six sides of the head of the stick.
References
Foo, S.L., et al, NUS Baba House: Architecture and Artefacts of a Straits Chinese Home, NUS/EDM, 2016.
Khoo, J.E., The Straits Chinese: A Cultural History, The Pepin Press, 1996.
Knapp, R.G., Chinese Houses of Southeast Asia: The Eclectic Architecture of Sojourners and Settlers, Tuttle, 2010.
Lee, P. & Chen J., Rumah Baba: Life in a Peranakan House, National Heritage Board, 1998.