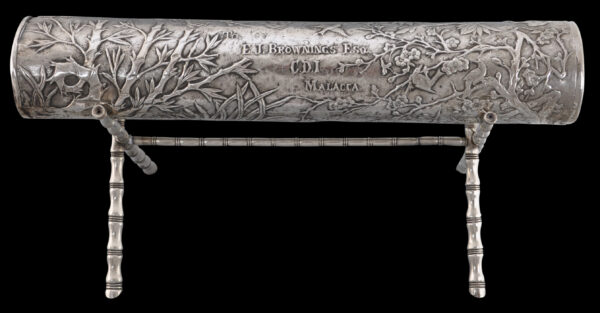 8899
Enquiry about object: 8899
Unusual Malaysian Straits Silver Presentation Scroll Holder
Malacca, Straits Settlements, Malaya (now Malaysia) early 20th century
length: 39cm, diameter: 7.2cm, combined weight: 469g
This presentation scroll holder of cylindrical form and stand is of high-grade silver and decorated with Chinese motifs. It is embossed with a dedicatory inscription – but most importantly, part of the embossing (which is integral to the construction of the piece compared with a later engraving) mentions Malacca. So rather than being an example of Chinese export silver, ie silver made in southern China for export, this piece clearly is the work of a local Chinese silversmith working in the Straits Settlements, and probably Malacca itself.
The scroll holder would have contained a presentation scroll most probably giving thanks for service that the presentee rendered.
It is quite rare to find Chinese-style silver that very definitely was produced in the Straits Settlements. (Most examples of Straits Chinese or baba-nonya silver undoubtedly was made in the Straits Settlements but there is little proof of that.)
The cylinder is repoussed with with landscape scenes with plum blossoms, lotus, bamboo, gingko, rice stalks, a pair of geese, two humming birds, and a deer. One end is decorated with with a chiling and the other with a dragon.
The dedicator inscription reads: 'To EJ. Brownings Esq, CDI Malacca'. (Presumaby Brownings was a colonial administrator).
The reverse is impressed with the following Chinese characters: 清正廉明 or 'qīng zhèng lián míng' – which means 'impartial, not corrupt', which is a splendid comment on a civil servant.
The cylinder rests on a silver bamboo stand.
The item is in fine condition. It is decorative, and the definite associations with Straits silversmithing make this a relatively important piece. There are no maker's marks.
References
Ho, W.M., Straits Chinese Silver: A Collector's Guide, Times International, 1984.