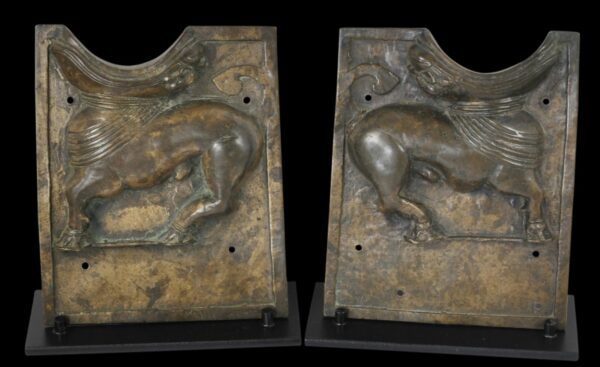 6680
Enquiry about object: 6680
Pair of Sri Lankan or South Indian Yali Door Plates
Sri Lanka or South India circa 18th century
length (each): 16.5cm, width: 13.7cm, combined weight: 1,041g
Each of this very unusual pair of plates in brass or bronze has been with the form of a mythical, multiple-headed creature known as a yali with the mouth yawning wide open. The yalis are cast in high relief.
Each plate has several drilled holes to allow it to be fixed most probably to a wooden door.
It is likely that the plates come from South India or Sri Lanka, where they probably were intended for a Buddhist temple or monastery (vihara).
The plates might have surrounded a lock or a door latch.
It is the first time that we have encountered plates such as these.
They are in fine condition, and have very clear age, with a lovely golden patina. They are accompanied by a pair of attractive, custom-made stands so that they can be attractively displayed.
References
Coomaraswamy, A.K., Mediaeval Sinhalese Art, Pantheon Books, 1956 reprint of the 1908 edition.
Michell, G., et al, In the Image of Man: The Indian Perception of the Universe through 2000 Years of Painting and Sculpture, Arts Council of Great Britain, 1982.
Weereratne, N., Visions of an Island: Rare works from Sri Lanka in the Christopher Ondaatje Collection, Harper Collins, 1999.