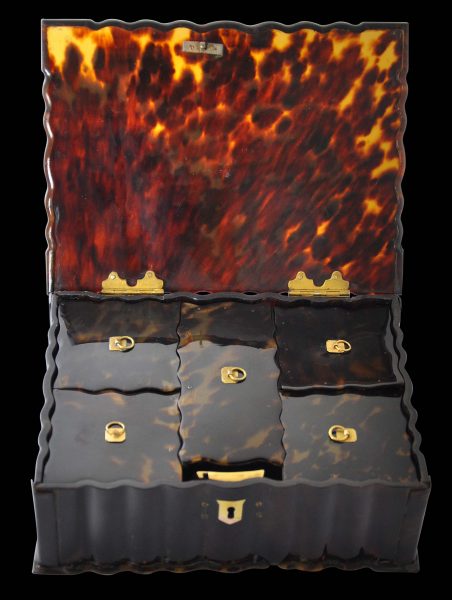 3616
Enquiry about object: 3616
Tortoiseshell Box with Fitted Compartments & Gilded Mounts
Galle District, Sri Lanka circa 1870
length: 19cm, depth: 14.3cm, height: 7cm, weight: 608g
This fine box with a hinged lid and internal compartments and dividers all with lids, is completely made from tortoiseshell and mounts of gilded metal.
The box has crenulated sides and a lid and base with matching crenulated edges. The lid lifts to reveal five compartments separated by crenulated dividers and with crenulated lids to match. Each compartment lid has a little central gilded ring pull.
A related example is illustrated in Jaffer (2001, p. 383) who says that references to Ceylon-made (Sri Lankan) tortoiseshell boxes with gold and presumably gilded mounts first appeared in Paris Exhibition of 1855. The centre of manufacture was the southern coastal town of Galle. The tortoiseshell (caretta imbricata) was imported from the Straits of Malacca (between Sumatra and the Malay Peninsula) and from the Maldive Islands, and the work was done by craftsmen in the villages around Galle.
The example here is unusual in that it retains all its internal components – all the dividers and all the covers. There is an old, stable, light crack to the sheet in the base, and the expected shrinkage here and there but overall, the box is in a fine condition. It is fitted with the original lock but the key is no longer present.
References
Jaffer, A., Furniture from British India and Ceylon: A Catalogue of the Collections in the Victoria and Albert Museum and the Peabody Essex Museum, Timeless Books, 2001.