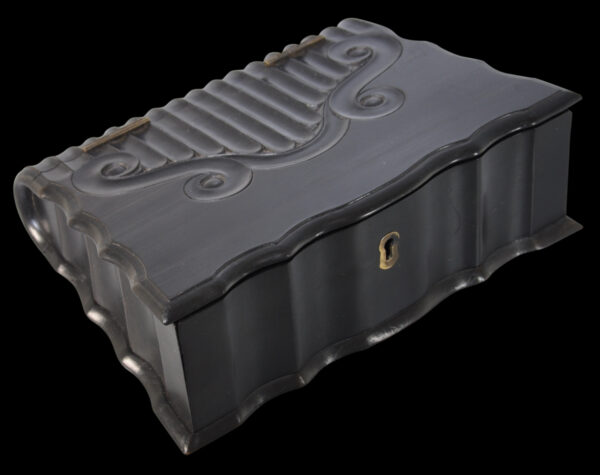 6716
Enquiry about object: 6716
Dutch Colonial Carved Ebony Bible Box
Dutch Colonial Sri Lanka (Ceylon) 18th century
width: 23.2cm, depth: 16.1cm, height: 7.5cm, weight: 780g
Dutch colonial bible boxes are not common. This example follows the conventional form of having a hinged lid, and is thicker at the front than at the back to emulate a leather-bound book.
It is fashioned from ebony, which is native to South India and Sri Lanka.
The top is carved with a central panel of grooves. The 'spine' is gadrooned, and the sides and front are gently crenulated or scalloped.
It has a hinged lid, and a brass key mount (but neither the key nor the lock mechanism no longer are present).
Veenendaal (1985, p. 86) illustrates two examples, one of which also is illustrated in Voskuil-Groenewegen (1998, p. 92).
Bible boxes were used to hold a small personal bible. The wives of Dutch officials would walk in public in the Dutch settlements of south India, Sri Lanka and the East Indies followed by slaves or servants who held aloft umbrellas, carried betel boxes and perhaps a spittoon. Sometimes such a procession included a servant or slave who carried a bible box such as the example here.
The example here is in fine condition and is without any chips or repairs.
References
Veenendaal, J., Furniture from Indonesia, Sri Lanka and India During the Dutch Period, Foundation Volkenkundig Museum Nusantara, 1985.
Voskuil-Groenewegen, S.M. et al, Zilver uit de tijd van de Verenigde Oostindische Compagnie, Waanders Uitgevers, 1998.