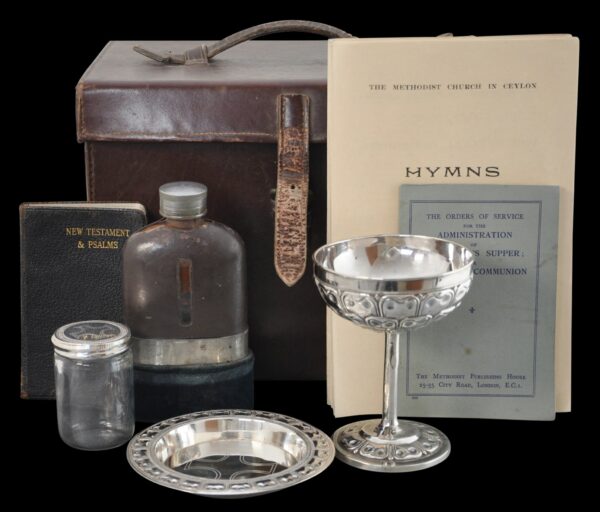 8844
Enquiry about object: 8844
Sri Lankan Christian Communion Set with Kandyan Silver
Sri Lanka circa 1920
height (of case): 19.5cm, width (of case) 25.2cm, depth: 18.3cm, height (of chalice): 11.2cm, diameter (of chalice): 8.8cm, diameter (of paten): 11.4cm, weight (of chalice): 159g, weight (of paten): 66g
This travelling Methodist communion set is from Sri Lanka. The silver components are all locally produced and are fine examples of Sri Lankan silverwork in the colonial Kandyan style
Included is a silver chalice, a silver paten (to serve the communion wafer), a glass pyx with a silver lid (to store the wafer), a glass flask with silver and leather mounts, and various white linen towels for presenting and cleaning the chalice.
The chalice and the paten most particularly demonstrate Sri Lankan craftsmanship with their obvious lotus petal chasing and as a such are a wonderful example of cross cultural silverwork.
There are also eleven copies of a locally printed pamphlet 'Hymns for Special Occasions' published by the Methodist Church in Ceylon, another pamphlet imported from London 'The orders of service for the administration of the Lord's supper or the Holy Communion'; and a copy of the New Testament & Psalms, printed at the University of Oxford and dated 1915.
These are fitted inside a traditional leather case with an interior lining of blue felt.
The Methodist Church established it Sri Lankan headquarters in Colombo in 1814 which was used as a base to conduct missionary work across Ceylon as it was then. They established orphanages, schools and hospitals.  The church has been in decline and today there are only around 38,000 Sri Lankans who profess to being Methodists.
The set here is in fine condition. It is a curious relic from Sri Lanka's colonial past.